Trinidad & Tobago Carnival Pt.8 – JW & Blaze "Palance"
No Trinidad Carnival post for 2010 would be complete without mention of JW & Blaze and the phenomenon that is "Palance". This song has taken a word that I doubt I even heard more than once in a year, and turned it into something that everyone is working into the most random and non-sequitur of sentences. There are KFC Palance 'feasts' and yuh dun know I want a Palance T-Shirt (though I really really REALLY would like the one worn in the 'official' music video, anyone know where I can get one? 🙂 )
SIGHTS:
The official video went viral last Saturday, and I have been passing it on to as many people as I can think of 🙂 I know that some of you already caught it on my Facebook page and Twitter feed. If you still haven't seen it, click below and sit back!
Palance – JW and Blaze from ForceFed Blog on Vimeo.
But who are JW & Blaze?
Well, apparently they are the DJ's on Trinidad's #1 morning radio show (anyone who knows me knows that my brain doesn't kick in until 11 a.m., and I hardly listen to radio, so this was news to me).
From TrinidadTunes.com:

JW and Blaze are best known for their popular morning show on the Trinidadian radio station Red 96.7 fm. Much to the pleasure of their fans, they are now creating their own music and are becoming well-known for their hilarious, high-energy stage performances at various events during the carnival season in Trinidad.
SOUNDS:
There is little doubt in anyone's mind that Palance will be Road March 2010 (that means the tune most played on the road on Carnival Monday & Tuesday for revellers to dance to). Check out this interview with them from Barbado's BoomTribe radio show.
TASTES:
As I've previously mentioned where there's a fete or nightclub street food is not far away.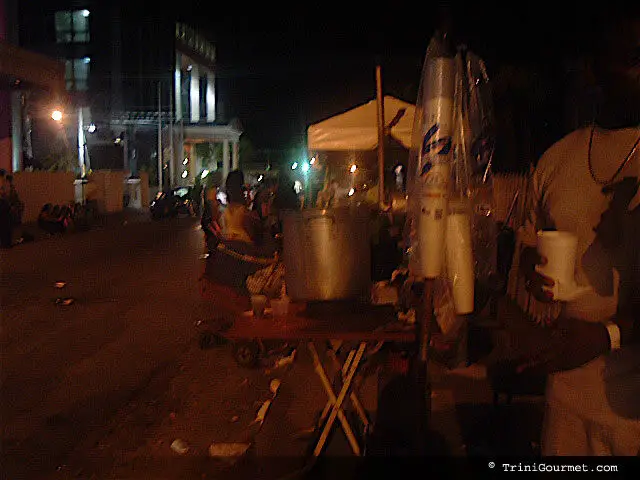 Corn soup vendor
One offering that is perenially popular with late-night partygoers is the sidewalk burger stand.

The sign reads "Bake & Shark, Burgers (Beef/Chicken), Fries, Soft Drinks, Hops & Cheese)" and at the bottom "Real Trini Style".
I love Trini-style hamburgers because they are redolent with herbs, garlic and spices. You can try my own recipe here.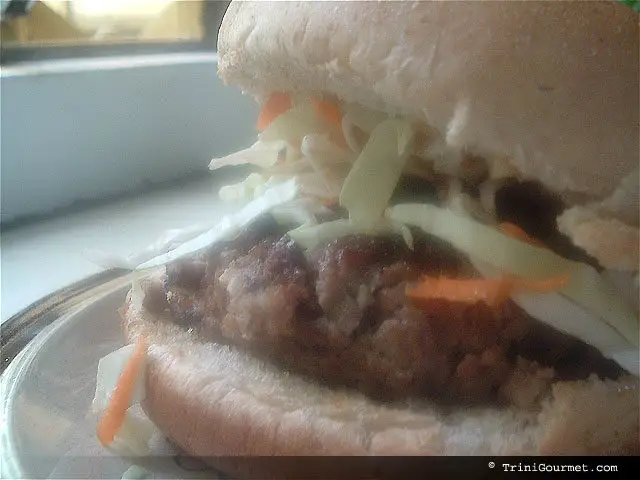 ---