Raw Green Mango Chow (recipe)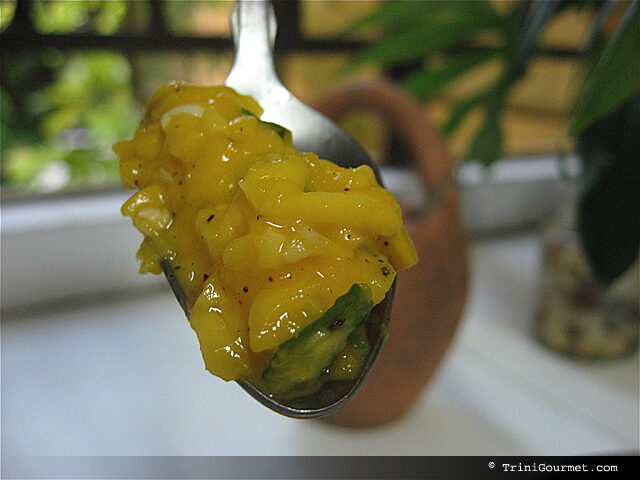 This post was originally published on February 6, 2009. It has been updated once since then for submission to Mango Moods
Earlier this month I asked Trinigourmet readers on Facebook and Twitter what their favourite way to enjoy mango was. The runaway winner? Mango Chow!
Green mango chow is a wonderful accompaniment to most meals. Light and yet spicy, it adds a tart sweetness when used as a condiment. Chows like these are best used by slightly under-ripe fruits. In this case I have used a green mango, however pineapples are sometimes used, and even though I've never seen it done locally, my recent readings on Vietnamese cuisine cos me to believe it should also work brilliantly with green papaya.
Assembly is quite simple. The recipe below is really quite loose and forgiving. Feel free to adapt it to your own preferences 🙂
Green Mango Chow
INGREDIENTS:
1 half ripe mango
2 cloves garlic, minced
1 tablespoon minced cilantro or chadon beni (culantro)
1 tbsp.lime juice
Salt
freshly ground pepper
METHOD:
1. Peel mango and cut into chunks.

2. Place in a bowl and sprinkle with remaining ingredients.
3. Pulse in a food processor until just combined.
4. Cover and chill overnight to allow flavors to penetrate the fruit (if you can wait that long 😉 )
5. ENJOY!!
This recipe is an exclusive TriniGourmet original. Please do not share it or post it to your site without crediting TriniGourmet.com. A link back to our site is not necessary but always appreciated 🙂
Browse a wide array of Caribbean Cookbooks in the Caribbean section of Veni Mangé – Trinigourmet's Amazon Bookstore!
---