Sarina's Coconut Rice With Lentils and Cashews (recipe)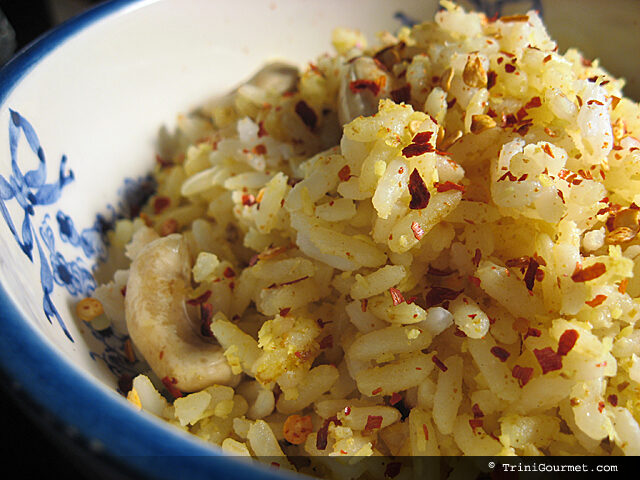 This recipe is a staple side dish of mine that I've adapted and modified at length through the years. Both colorful and flavourful I think it creates a texturally interesting background for spicy curries and other East Indian flavoured entrees.
Coconut Rice with Lentils and Cashews
INGREDIENTS:
1/2 lb. basmati rice
1 tablespoon vegetable oil
1 teaspoon stone ground mustard
1 teaspoon urad dhal or brown lentils
1 tablespoon red pepper flakes
1 tablespoon madras curry powder
2 ounces fresh coconut, grated
1 ounce unsalted roasted cashews
salt and pepper
METHOD:
1. Put the rice in a sieve and rinse under cold running water until the water runs clear.
2. Bring 2 cups lightly salted water to the boil in a large pan.
3. Add the rice, bring back to the boil and cook for 20 minutes.
4. Drain and return to the pan, then cover with a tight-fitting lid.
5. In a small pan, heat the oil, add the mustard seeds and cook for 1 minute until the seeds start to pop.
6. Add the lentils, red pepper flakes and curry powder and cook for 2-3 minutes, stirring frequently, until the lentils are golden.
7. Stir in the coconut and cook over a low heat for 3-4 minutes, stirring occasionally.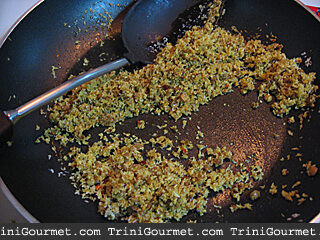 8. Toss with the rice and nuts and spoon into a warmed serving dish.
9. Garnish with red pepper flakes
This recipe is an exclusive TriniGourmet original. Please do not share it or post it to your site without crediting TriniGourmet.com. A link back to our site is not necessary but always appreciated 🙂

This post was originally published October 6, 2009. It has been updated once since then.
---