Upside Down Chocolate Pudding (recipe)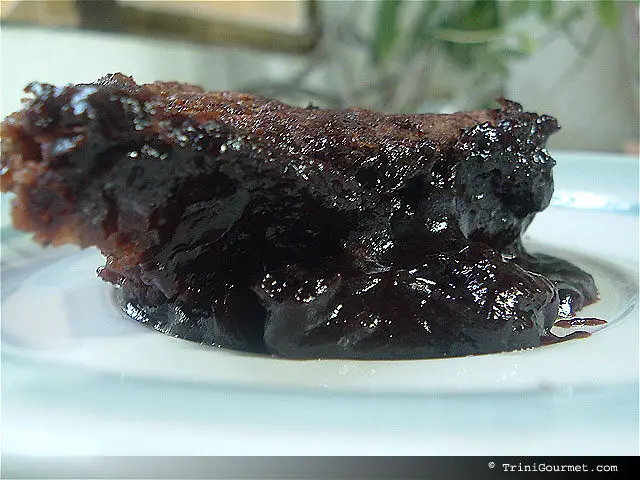 This post was originally published January 23, 2007. It has been updated once since then.
It was coming down to the wire for Sugar High Friday #27. The theme was chocolate and I still had no clue what I was going to make. Everything that I could think of required a trip to the supermarket which I wasn't willing to do. Especially since I had already used my supermarket budget for this week. What could I make with ingredients that I already had on hand? I decided to turn to my copy of The Good Home Cookbook: More Than 1000 Classic American Recipes
for the second time in the past 5 days. This book is already turning into a trusty sidekick, a very good sign!
As I flipped through the index I saw recipes for chocolate cookies, cake (there was a promising one-bowl recipe in particular, but it called for more mayo than I have on hand), and mousse… and then I saw it … a recipe for Upside Down Chocolate Pudding. I have seen recipes for molten chocolate puddings and cupcakes before. The descriptions and photos always intrigued me but I had never made one. Looking through the ingredient list I saw that I had everything on hand that I needed. This was gonna be my entry. This was it!
At first I pulled out my generic Canadian baking chocolate, but I thought, no this recipe was special enough to dip into my Trinidadian trinitario chocolate stash.
I don't know why I don't use my local Trinitario chocolate more. It's cheaper and repeated accounts state that it is among the best (if not the best) cocoa in the world. It is also infinitely cheaper than the imported brands that line the shelves. Maybe it is because it seems so special and smells so heavenly and decadent that I feel I should squirrel it away? After the results of this recipe though I realize that there is no reason to let this extremely affordable gem go to waste away anymore! 🙂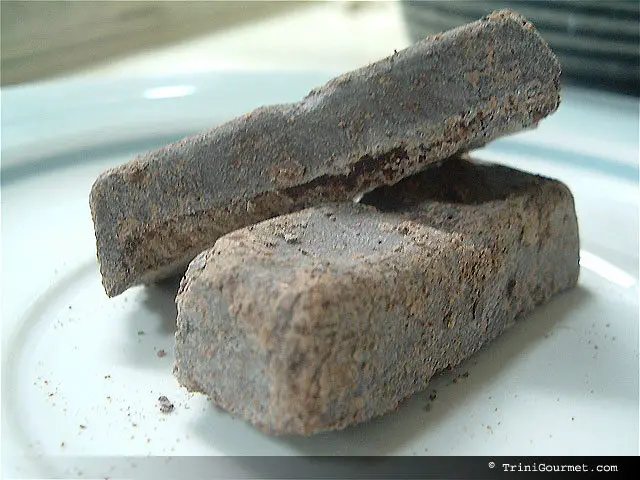 All in all I think that this is a great recipe for entertaining on short notice (or on a budget), as well as for those who consider themselves 'baking challenged'. The recipe was a cinch to put together and seems to be practically foolproof in nature with results that are so decadent and beautiful that no one has to be any the wiser 🙂 The pudding had a thin biscuit crust that covered a cake like fluffy layer that gradually got denser as it reached the thick creamy fudge like frosting on the bottom… YUM!
Upside-Down Chocolate Pudding
(from a recipe in The Good Home Cookbook: More Than 1000 Classic American Recipes
)
INGREDIENTS:
1 ounce (1 square) baking chocolate
2 tablespoons butter
1 cup all-purpose flour
1 1/2 cups sugar
2 1/2 teaspoons baking powder
1/4 teaspoon salt
1/2 cup milk
1 teaspoon vanilla extract
1/2 to 2/3 cup coarsely chopped nuts (I replaced these with chocolate chips!)
1/4 cup firmly packed brown sugar
2 tablespoons cocoa powder (preferable Dutch processed)
1 cup cold water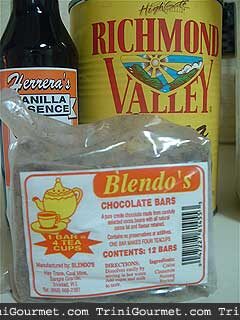 METHOD:
1. Preheat the oven to 350F.
2. Grease an 8-inch square baking dish
3. Melt the chocolate and butter in a small saucepan over low heat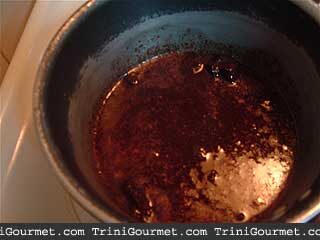 4. Meanwhile, stir together the flour, 3/4 cup of sugar, the baking powder, and salt in a medium bowl.
5. Stir in the milk and vanilla extract, then add the chocolate mixture and beat until smooth.
6. Stir in the nuts and pour the batter into the prepared baking dish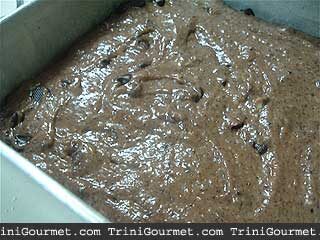 7. In a small bowl, stir together the remaining 3/4 cup sugar, the brown sugar, and cocoa powder until smooth.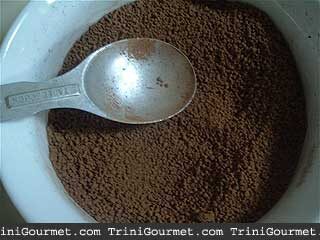 8. Sprinkle evenly over the pudding batter
9. Pour the water evenly over all
10. Bake for 40 to 50 minutes, until the top layer appears set
11. Serve warm

Serves 6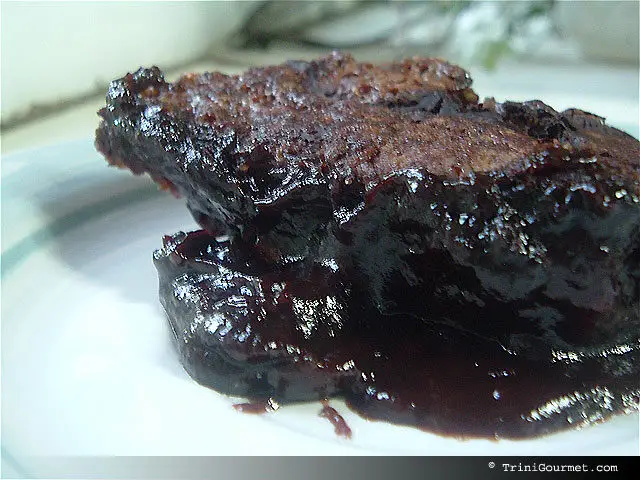 For this and other dessert recipes visit the Breads, Baking and Desserts section of Veni Mangé – The Trinigourmet Amazon Store!
---