Arepas (recipe)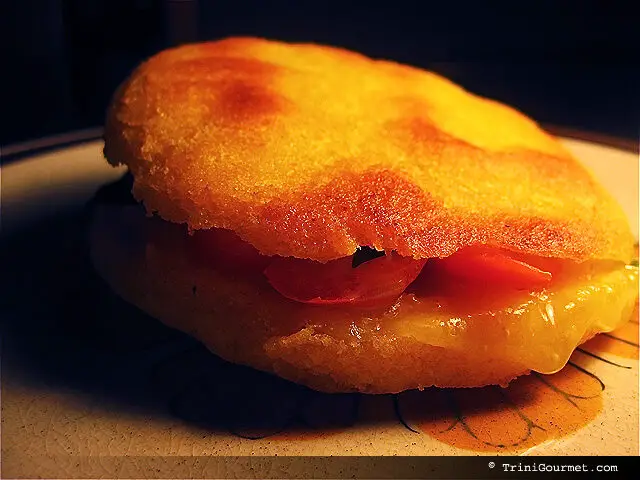 Earlier this year when my mother was diagnosed with severe gluten-related allergies it came as a surprise to her, and us. We never realized such an allergy could rear its head so late in a person's life. After seeing what she went through physically in the weeks it took to diagnose we have all gone the extra step to make sure that gluten-free dishes and snacks are on hand. This being Trinidad many alternatives that are used by those in food blogosphere are hard to find, or when found astronomically expensive. Some items however are plentiful. These include cornmeal, cornflour, and cassava – items which have become staples in my 'gluten-free' alternatives to the breads and pastas she once loved and devoured.
One dish which she really enjoys is my homemade arepas. We make them in a large batch and freeze the bulk for her to defrost at her own leisure.
I first had unfilled arepas on my trips to Caracas, Venezuala in the late 80s. And the memory of them hot and filled with butter, and other fillings was something that definitely stayed with me. Arepas in the larger parlance of the Southern English speaking Caribbean usually refers to a meat filled cornmeal patty, quite similar to beef empanadas. I'll make those at a later date but for now it's the Venezualan version that I'm concentrating on. As more and more South American settle in Trinidad, authentic eateries have popped up allowing the local populace to partake in an indulgence that one had to leave the island for in the past.
Although the arepas in Venezuala I had were made with white corn flour, yellow cornflour is much more readily found here, and that is what I used. The differences as far as I can tell are nominal taste-wise.
I've noticed a lot of attempts at arepas in the food blogosphere, prompted in no small part by a post made by Gluten-Free Girl. Many of the results appeared to be drier and flatter than what I am used to so I hope that my step by step pictorial will help somewhat in being able to gauge the consistency of the dough and such 🙂
I love eating arepas when they are piping hot. I slather them with butter, and then add any type of filling that I like. The flavour of an arepa is mild so the addition of salt, and the crusting of the exterior are vital to bring out the subtle corn flavour. In the photo above I filled the arepa with thin slices of mozzarella, fresh tomato and basil leaves. Yum!
This post has been submitted to the Baking Sheets challenge, hosted by Joelen's Culinary Adventures
Arepas
Makes 6
2 cups masa flour
1 teaspoon salt
3 cups boiling water
3 tablespoons vegetable oil
Method
1. Preheat oven to 400ºF.
2. In a large bowl, mix together the cornmeal and salt.
3. Pour in boiling water and mix with a wooden spoon to form a mass.
4. Cover with a towel or plastic wrap and set aside to rest for 5-10 minutes.
5. Using damp hands form the 'dough' into 6 balls of equal size.
6. Shape and form into cakes about 3 inches wide and 3/4 inch thick (if the dough cracks at the edges, wet your hands and reform)
7. Heat the oil in a sauté pan or skillet over medium-high heat.
8. Sauté the patties, a few at a time, to form a light brown crust on one side, 5-6 minutes.
9. Flip and brown on the other side.
10. When all the patties have been browned, transfer them to a baking sheet and bake in the oven for 15-20 minutes, or until they sound lightly hollow when tapped.
11. Serve immediately.
---