Blogger Postcards From Around The World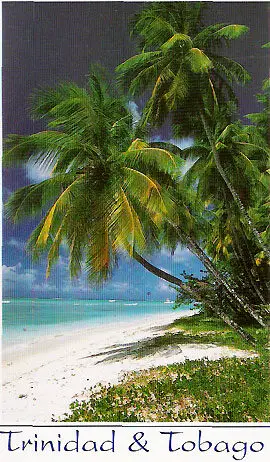 Do you like the image on the left? I certainly hope so! You see, not only is it a picture of the very beautiful Pigeon Point beach in Tobago, it is also the postcard that I sent someone today as part of Blogger Postcards from Around the World.
Blogger Postcards from Around the World is the creation of Meeta from What's For Lunch Honey? It's a way for bloggers to connect in an offline manner by sharing a bit of their homeland with each other 😀 I love things like these. The last thing that I took part in like this was Blogging By Mail 🙂 That was a lot of fun, even if I'm still waiting on my package 😆
I can't wait to see what postcard I receive, and from where 😀
I have not featured much of Tobago's cuisine yet here on TriniGourmet, and I hope to change that in the near future as the dishes there are quite yum! One of Tobago's most well-known dishes is Curried Crab and Dumplings. This is a dish that I have never had as it is not kosher but I am sure that it is quite yum!
If there is a Tobago dish that you would like to request, drop me a line to let me know and I'll do my best to accommodate if possible 🙂
And if/when you are on Pigeon Point I strongly suggest that you ignore the fast food stands and instead patronise local mom and pop establishments, like Bago's Beach Bar.
In other news I have finished mapping out the rest of my 'Trinidad and Tobago Carnival' series and that will begin going out tomorrow 😀 I hope that you will find it interesting, informative and appetizing 😀 I'm quite happy with what I've put together so far and many of the recipes that will be included are those that people have been searching this site for, for quite some time, so hopefully this will be reason for smiles all around!
---