Sylvia Hunt: Relaunched & Reimagined For A New Generation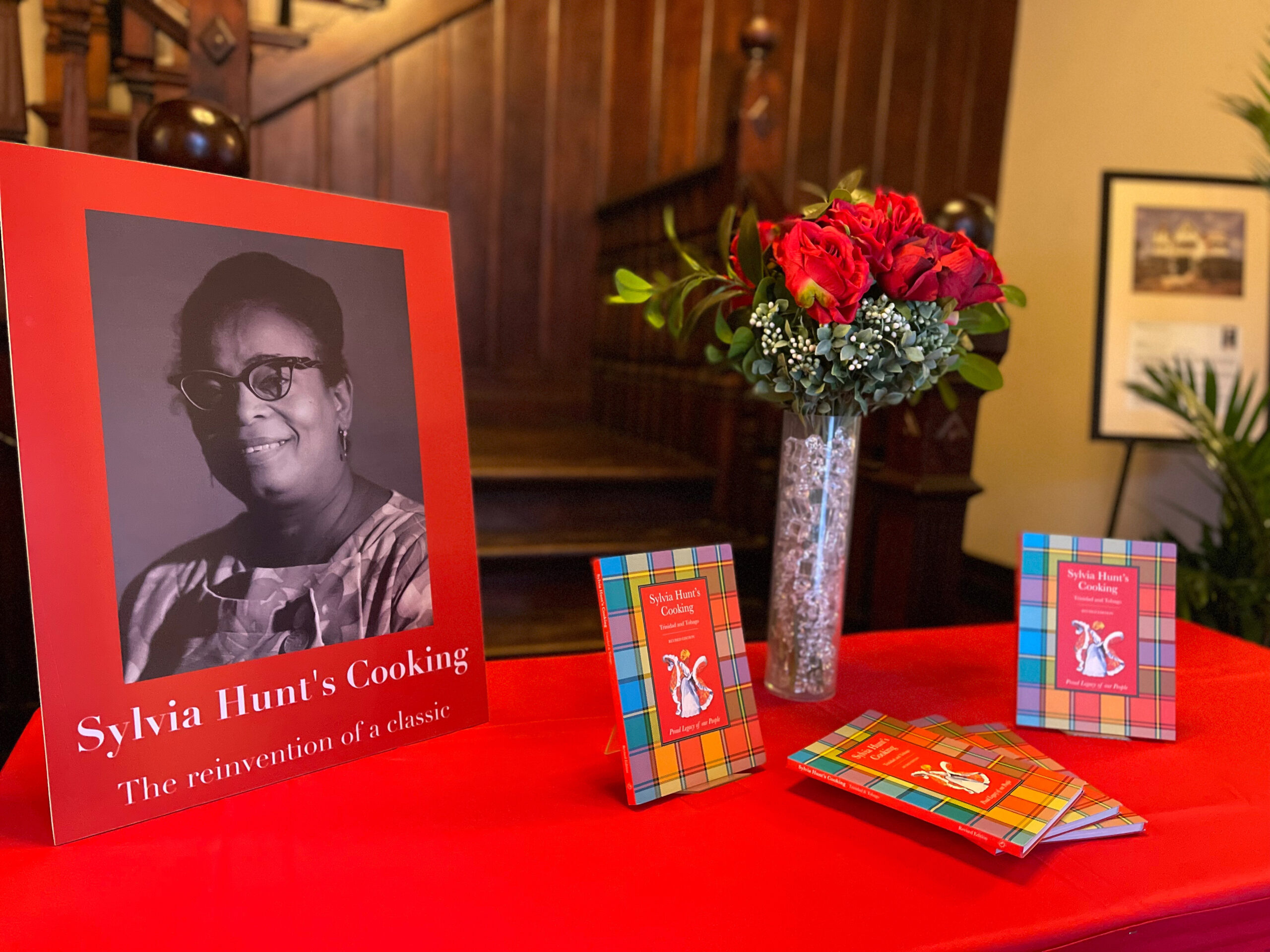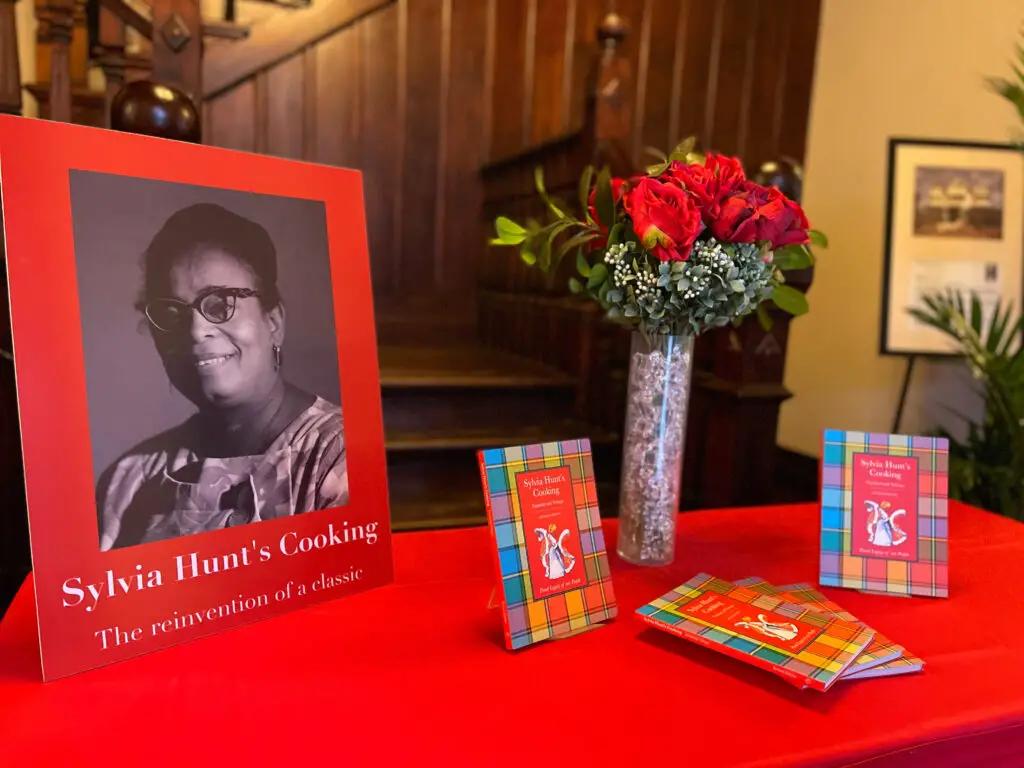 Long time readers of this site will remember that since it's early days I have talked repeatedly about one of Trinidad's true culinary pioneers, Sylvia Hunt. Lamenting the scant attention to her contributions at the time, as well as the unavailability of her cookbooks, I wondered if she was really going to fade into oblivion, as I believe I am of the last generation that would have seen her on TV.
Through the years kind readers assisted my search. One mailed me a copy of their own cookbook. Others assured me that the family was working hard to bring her works back into print. Still nothing ever seemed to materialize. Thus, my heart leaped when I was contacted in 2019 by her grandson Christopher Sombrano letting me know that finally, after being out of print for almost 40 years, Sylvia Hunt's work was ready to be re-published. Then, as we all know the pandemic occurred and once again silence returned. Another false start?
Apparently not!
Imagine my joy when I received a press release and invitation to cover the official relaunch that was held on May 10, 2023. An unforgettable experience, the event was held at the charming "Mille Fleurs" mansion, a recently fully restored jewel of Trinidad's architectural history, it is one of several colonial-era mansions collectively known as "The Magnificent Seven". Among the attendees were family members, the Mayor of Port of Spain, influential food personalities, and dedicated media workers who had collaborated with Ms. Hunt.
Mille Fleurs
The night was filled with insightful speeches that shed light on Sylvia Hunt's achievements, patriotism and enduring influence. Among those who shared their thoughts were one of Trinidad's original food bloggers Franka Philip of Trini Good Media and GoatoberTT, media personality Wendell Constantine and Sylvia Hunt's daughter Diana Sombrano , great-granddaughter Maegan and grandson Christopher Sombrano.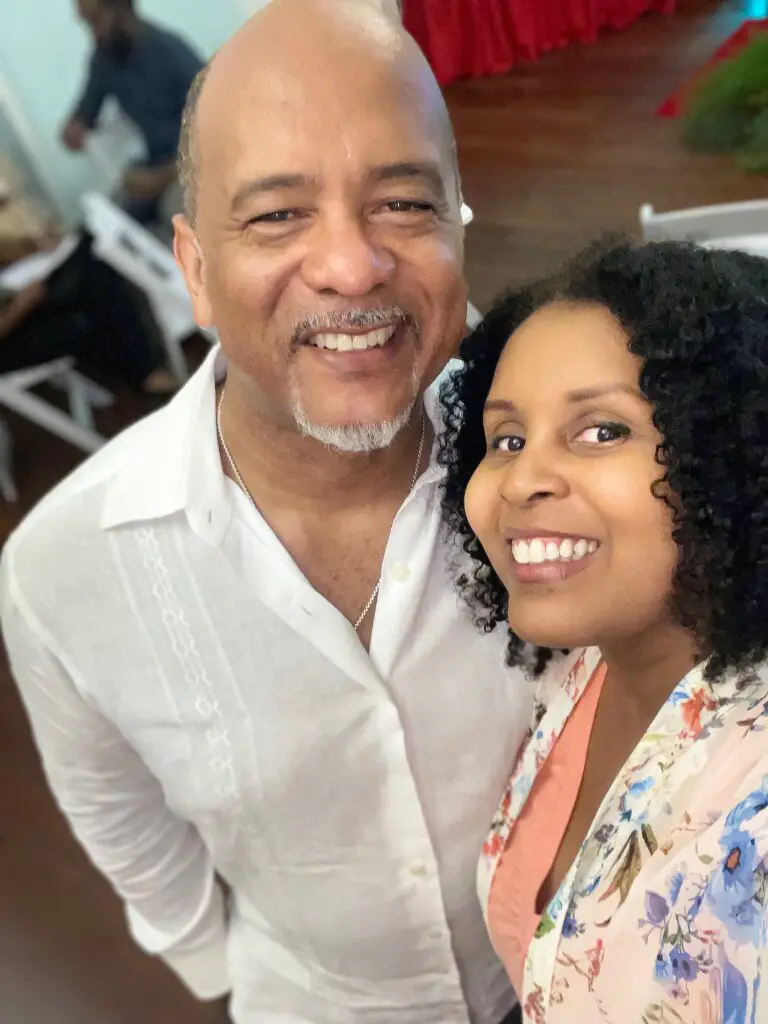 with Christopher Sombrano

Wendell Constantine's speech resonated deeply with me, emphasizing the importance of understanding the motivations behind Sylvia Hunt's pioneering cooking show, "At Home With Sylvia Hunt." The first local cooking show in production, it aired in the half hour before the 7PM nightly prime time news cast on Trinidad's then only TV station TTT (Trinidad & Tobago Television). Constantine talked about how Sylvia Hunt came up and rose to fame during a time in our history when people didn't turn to supermarkets and pharmacies for foods and condiments. They turned to neighbors. "On a Sunday all I needed to do was knock on the galvanize fence and a hand would bring a plastic bag over with ice."
His words prompted us to explore beyond the surface, "It's important to learn, appreciate and understand who is this lady. Was she just that lady with the refrigerator, the stove and loads of prepped meals in front of her? Where did she come from? Why was she doing this? And what were we supposed to learn from it?"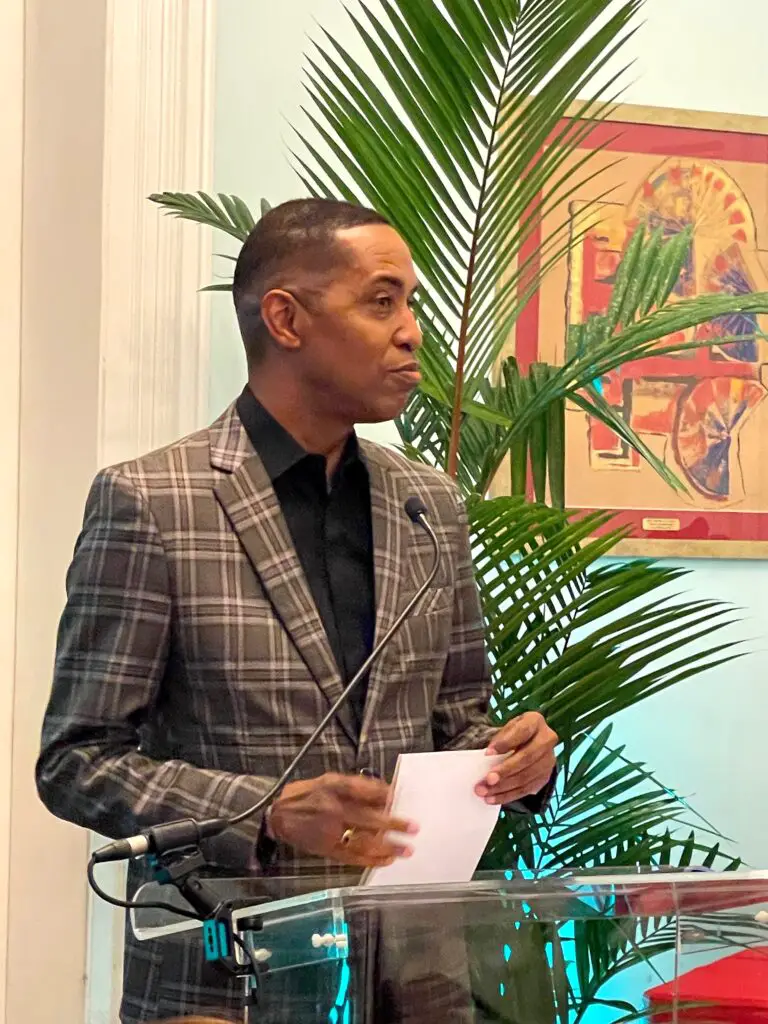 Wendell Constantine
Diana Sombrano, Hunt's daughter, offered a glimpse into her mother's dedication to culinary traditions and her unwavering commitment to her television show, national service, and various business endeavors. "Memories of my mother included her passion for our culinary traditions and her weekly commute to her television show "At Home with Sylvia Hunt"… As children we spent many hours with my mother supporting her with her many business endeavours and her community role." Sylvia Hunt's past achievements, including her 1986 Hummingbird Silver for Community Service and two terms as an alderman on the Port of Spain city council, were also highlighted.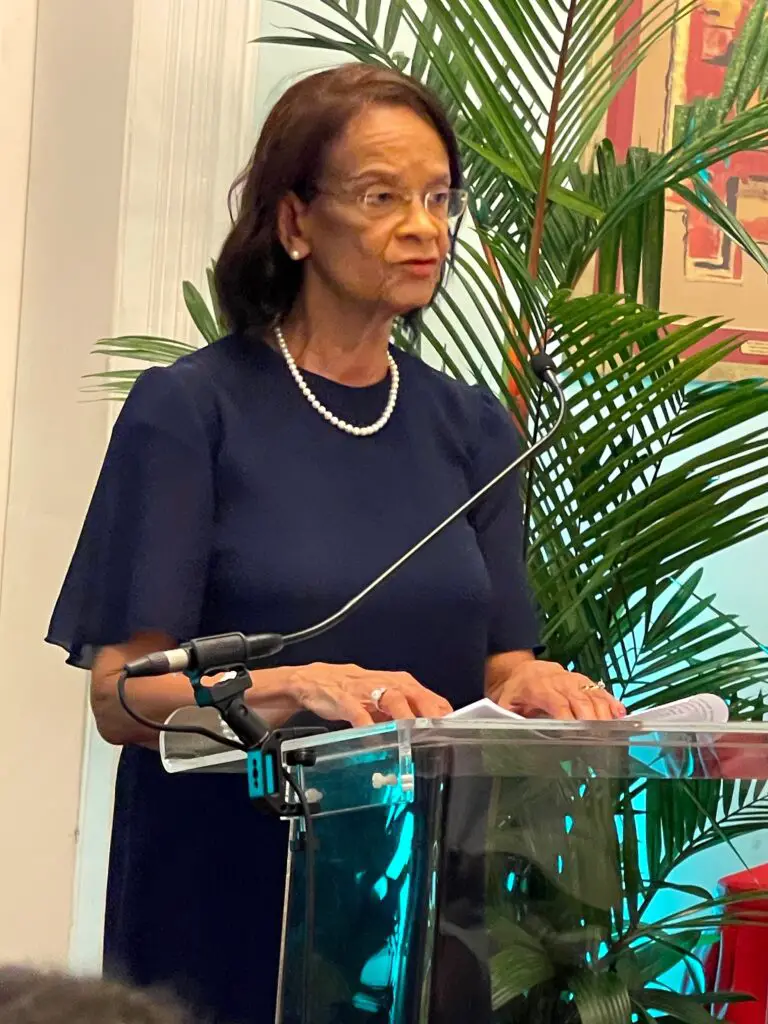 Diana Sombrano

To my surprise, my own contributions to the topic were recognized during the event, with the Trinidad & Tobago Publishers & Broadcasters Association 2019 tribute featuring quotes from my work in their post-humous award (shown below).

Christopher Sambrano, Sylvia Hunt's grandson, passionately described the new edition of the cookbook as a "re-invention of a classic" that ensures her culinary heritage remains vibrant. The volume is based on her first cookbook, published in 1985, which became a vital part of every kitchen in Trinidad & Tobago. Franka Phillip's heartfelt joy at the project's culmination highlighted how these books serve as a connection for those living away from home.
"Sylvia showed us who we are, in our food. This cookbook is pretty much like the Joy of Cooking and when you look at it you think 'Wow, we really don't have enough that says to us, this is us'… Could you imagine if Sylvia Hunt was doing her thing today? Could you imagine her following on the Internet? Could you imagine how much merch she would sell? Could you imagine her Instagram feed? She would be a star way beyond these shores. She would conquer the Caribbean. She would conquer the Caribbean diaspora and then she would conquer the world."
While taking the time to praise the impact that social media has had on the local culinary scene Phillip was also careful to point out that a lot of the new wave of local content creators are not well-versed in the language and nuance of the food industry and as a result ultimately do themselves and their audiences a disservice.
"A lot seem to lack the understanding and the depth that we need to have to educate people about our food… plenty people who are posting about food you realize they can't cook, the way they talk about food you realize they don't know what they're talking about. You're coming into food. You want the next generation to understand who we are. Taste the food, understand the ingredients, understand the textures. Get a feel for the language of food because guess what 'That taste nice', 'That real lash' does not help."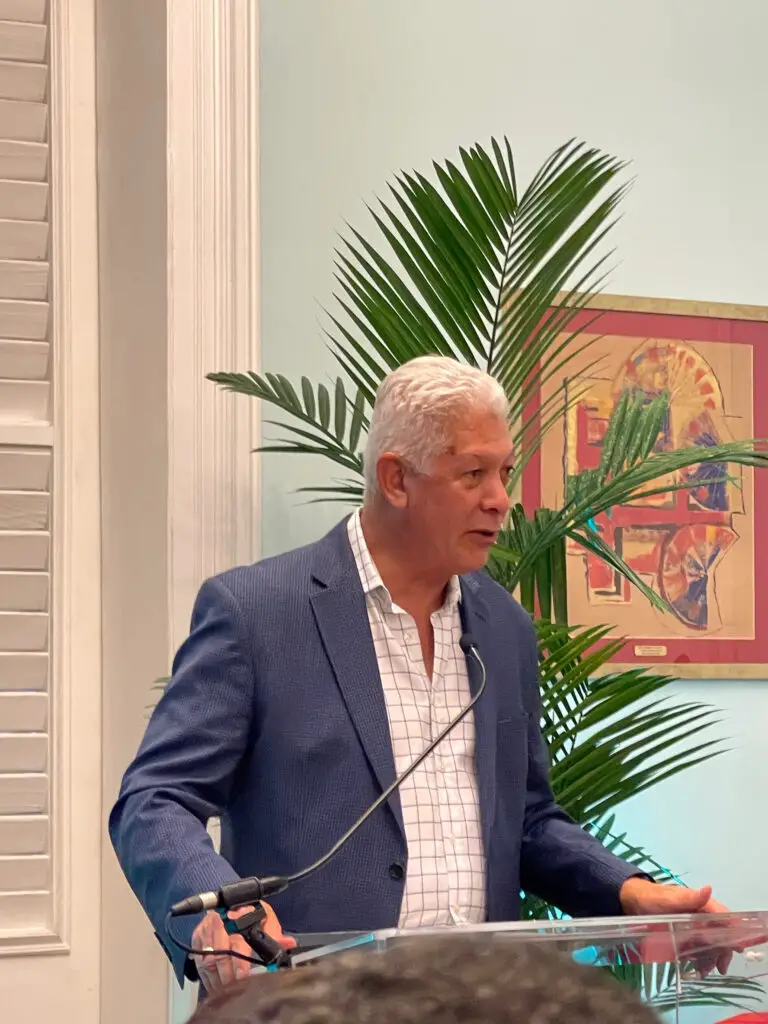 Mayor Joel Martinez
Mayor Joel Martinez of Port of Spain underscored the global appeal of Trinidadian cuisine and Sylvia Hunt's role in showcasing the fusion of diverse cultures through food. "I have met people around the world, many countries, that said that they had tasted the food of Trinidad and anyone would tell you it was fantastic. We should pride ourselves in the fact that what we have is really a mixture of different cultures that… got put into one space, and that we had this woman who took the time to demonstrate to us how it could be done, and now years later we really understand and appreciate the value of what this woman did for us."
Reflecting on my own personal journey in search of Sylvia Hunt's cookbook, I was moved by the dedication witnessed during the re-launch. The refrain of the night "Sylvia Hunt is back" will not be in vain. The book, enriched with captivating colorful artwork and archival images, offers a unique window into the past and is available for purchase at multiple bookstores, on SylviaHuntCooking.com, Apple Books and of course Amazon, securing Sylvia Hunt's legacy for generations. May's re-launch solidified the cookbook's rightful place in Trinidad and Tobago's culinary landscape and ensures that her work will finally be rediscovered and passed on to current and future generations of cooks both here and in the diaspora.
Constantine's parting words seem particularly apt to end this recap with, so I will leave you with them.
"We have an opportunity now to raise the bar on how we entertain, what we share, when we share it, and more importantly who we share it with. Because food is nourishment and sustenance for our journey, and along our Trinidad journey we've sought to erase a lot of stuff. Congratulations to the Sombranos, Hunts and other extended members of her family for not erasing Sylvia Hunt but bringing her front and center to the future of good cooking in Trinidad and Tobago 'At Home'"
---