TriniGourmet thanks 'all yuh' for the online love :)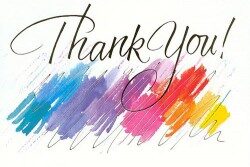 For those who are not fluent in Trini 'all yuh' means 'all of you', it is also the name of Trinidad and Tobago??????s user driven social content website. Early this morning it came to my attention that TriniGourmet.com was listed as one of their Top 10 Trinidad and Tobago Blogs! Wowee 😀 You can see the list of other winners here. Not surprisingly I am also an avid reader of many of them, and know the names and faces behind at least two of them personally.
But my thanks does not stop with Allyuh.com!
Recentlly Jugalbandi.info featured TriniGourmet and my Doubles post in its postcard series. Not only did this expose Trini cooking to a whole new audience it also enlightened me to the inspiration behind this very popular snack. Called Chole (or Chana Batura) it is also a popular Punjabi street and breakfast. Take a look at the pictures/recipe and you can see that the similarities are undeniable (is bara possibly a modification of batura?)!
I was also quite flattered to be interviewed recently by Can Cook Must Cook for an article she is developing on Caribbean food bloggers and what drives us to do what we do. She compiled her developing thoughts into a very interesting post which you can read here.
Finally, recently I got a very touching comment from a reader. When I started this site I saw it as a way to promote and share Trinidad cooking with foreigners and homesick Trinis looking to recreate a taste of home. However this reader's comment shattered all assumptions I had held about how the recipes I share here would be utilized. It really reinforced for me how emotional and emotive food is, its power to be a social bridge and tool for friendship and bonds. Read her story and see if you too don't get a little verklempt!
Much bigups to everyone who has helped and supported me in growing and promoting this site. It is much appreciated and not taken for granted 🙂 Ah lovin' allyuh real bad! 🙂
---