Hanukkah 2010 Tablescape Ideas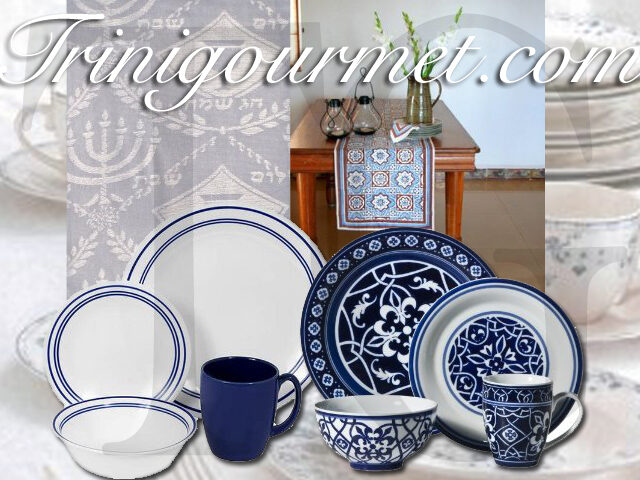 Ever since reaching out to readers on this site on a regular basis (both on Facebook and Twitter), I've found myself the welcome recipient of requests and suggestions on an ongoing basis. I am very grateful for these so keep 'em coming! Today's post is the direct result of one of those suggestions. It came via Twitter when a reader suggested that she'd love to see what ideas I have for simple, elegant tablescapes, especially coming from a Caribbean perspective.
This idea immediately resonated with me. My mom has been a a collector of design books all my life, and interior decor is definitely one of her passions. In fact I am currently writing this as the sounds of her watching HGTV float through the air 🙂 I don't know why it took me so long to seriously consider adding a design component to this site, but now that I have I must say that the process has left me feeling energized and excited you can look forward to many more in the coming year! Thanks @Dasheenbush !
So onto this Hanukkah tablescape 🙂 I was inspired by the colours of the season blue and white. If you are looking for a metallic accent I suggest spare touches of silver -or- gold, however the key charm of this ensemble is to me its casual nature. For me at least, Hanukkah has always been a time of warmth and camaraderie, laughter and food. Don't be afraid to forego a tablecloth (or to keep the one you use neutral). Mix and match tableware items (as long as they share a colour scheme) and keep your lighting accents simple and natural. Small votives placed in a hurricane jar or two will recall the miracle of light, while adding warmth to the table and leaving enough space for all your fare!
There's no need for the festivities to stop when the table is cleared away either. A few symbolic pieces on a sidetable can make all the difference when it comes to changing the mood of your surroundings during any holiday season.
Need more ideas? Here are some items that I've handpicked to get you started 🙂
---