REVIEW: Paradis de la Creme, MovieTowne, Invaders' Bay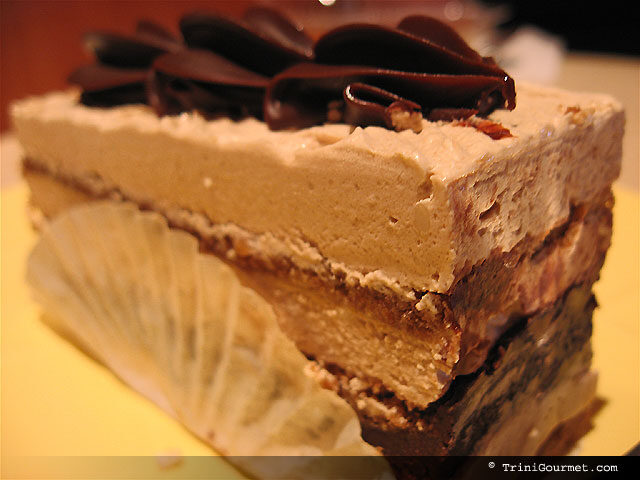 MovieTowne is turning into quite a culinary hub for those in North-West Trinidad. When it first opened it was a bit of a wasteland (outside of the cineplex). The biggest non-movie attraction for the longest while was 'Shakers', an outdoor pub/bar. However over the last 12-18 months there's been an explosion of eateries, representing everything from sushi (Hanami's), to Trinidad Creole (Woodford Café) to American chain eating (TCBY's and Ruby Tuesdays), Chinese (Shanghai Experience), Irish (J. Malone's) and much more!
On my latest jaunt (to see the Simpsons movie) my friend and I dropped by Paradis de la Creme, the complex's resident bakery/patisserie.
Their treats are always breathtaking and artfully displayed: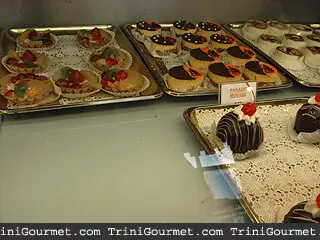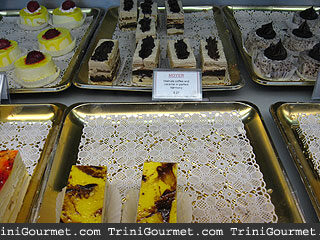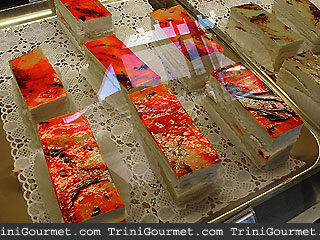 So far I have only sampled their desserts, but they also offer savoury pastries, quiches and breakfast and lunch offerings. The premises are always clean and well maintained and the quality of the food remains consistent. Service can be spotty though and the staff often seem visibly inconvienced by customer requests, even when placing orders. Even though I haven't personally had much trouble when there, on this visit they twice messed up my friend's requests and she had even more 'horror stories' of past interactions. Tsk Tsk Tsk 🙁
This time around I decided to try out their Noyers (according to their description "walnuts, coffee and caramel in perfect harmony" )
The flavours of coffee and chocolate were so intense that I almost passed out from the first bite. and the texture somehow managed to be simultaneously dense but mousse-like. The layers floated above a layer of walnut pieces. I personally would have preferred the walnuts to have been ground or broken into smaller fragments, as I'm not a fan of bold nut chunks, but that may just be a personal hangup of mine. I would definitely purchase it again the next time around but I really have my eye on the Fruit Tartlets, Fruit Slices and Oreo Mousse cakes… Ooo la la!

Paradis de la Creme
MovieTowne
Invader's Bay
868-624-6378

TG Rates This Experience:

Taste – 4/5
Ambience – 4/5
Price – 4/5

Overall Rating: 4/5
---