Hay Hay It's Donna Day #15 – Tarts: All-Inclusive / Caramelised Onion and Anchovy Tarts (recipe)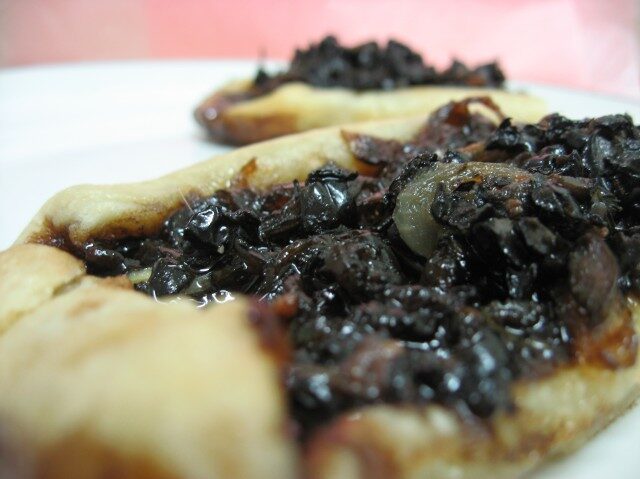 Welcome to the latest installment of Hay Hay It's Donna Day 😀 It's a huge pleasure (and honour) to host this current round, my first time hosting a food event of any kind! 🙂
Barbara, of Winos and Foodies has been an amazing help to me in setting everything up and definitely deserves a hearty shout-out 😀
So, on to this month's theme! I toyed with many ideas before settling on that of tarts. I love their elegant simplicity, and how they can so easily accommodate seasonal produce all-year round.
It also suited me fine because tarts were featured in this month's issue of Donna Hay's magazine (and website), and her stuff is impossible to find here in Trinidad 😉
Although tarts were touched upon in a previous round of Hay Hay it's Donna Day, the challenge, that time around was limited to savoury tarts. This time around I would like to open it up to include sweet, as well as, savoury ones.
Let your imagination go wild, the sky's the limit here! This particular tart that I made was for her Caramelised Onion and Anchovy Tarts and it was divine! 😀 Feel free to use any crust that you prefer, although puff pastry certainly makes the job a LOT easier 🙂
I can't wait to see (and sample) what you all come up with 😀
Before I head back into my kitchen, here are some more of the finer details for participation 🙂

RULES FOR HAY HAY IT'S DONNA DAY

Hay Hay It's Donna Day is open to all food and wine bloggers.

Entries submitted for HHDD must be made specifically for this event, although photos may be submitted to Does My Blog Look Good In This.

The host will select, make and post the original Donna Hay recipe without any changes. Participants may make the same recipe as is, or put their own spin on the recipe by altering the ingredients whilst remaining with the theme. Entrants should include a link to the host in their post.

Entries can be made at any time once the event has been announced but must be posted and emailed to the host by the closing date.

The deadline for entries to be posted is September 29th, 2007
The roundup will be posted on October 6th, 2007 with voting to follow for a week afterwards
The winner will be announced October 13th, 2007
Please post your entries and clearly mark them as an HHDD# post. After you post, please send an email to [email protected] with the following information: your name, the name of your blog, your recipe's name or title, your location, and the permalink to your HHDD post.
Caramelised onion and anchovy tarts
recipe from: Donna Hay
¼ cup (2 fl oz) olive oil
6 x 280g (10 oz) large brown onions, sliced
½ cup (4 fl oz) sherry vinegar
½ cup (87½g/3 oz) brown sugar
sea salt and cracked black pepper
2 x 200g (7 oz) store-bought puff pastry sheets, thawed
¹?³ cup (65g/2¼ oz) pitted kalamata olives, halved
12 anchovy fillets
12 sprigs thyme
1 egg yolk, lightly beaten
Preheat the oven to 200°C (390°F). Heat a large saucepan over medium heat. Add the oil and onions and cook, stirring occasionally, for 20?25 minutes or until golden and caramelised. Stir in the vinegar, sugar, salt and pepper and cook for a further 5 minutes or until thick and syrupy. Cut each pastry sheet in half and place on a baking tray lined with non-stick baking paper. Score a 1cm (¹?³ in) border around each rectangle. Divide the onion mixture between the pastry and top with olives, anchovies and thyme. Brush the pastry edges with egg and bake for 12?15 minutes or until puffed and golden. Makes 4.
TIP: Serve with a crisp green salad.
---