Samosas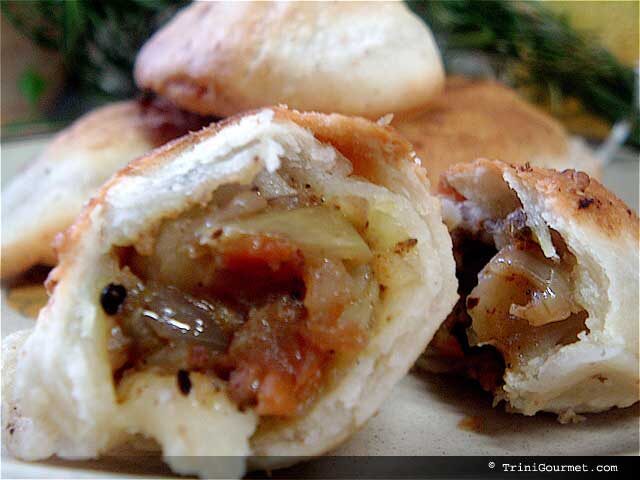 As I had promised earlier, here are the samosas that I made as my Sephardic contribution to my local Hanukkah potluck 🙂
Samosas (recipe from The Sephardic Table: The Vibrant Cooking of the Mediterranean Jews
)
Factoid:
The oldest Jewish community in India was the Bene Israel of Mumbai. According to legend, it started as a group of shipwrecked Jews: seven men and seven women who were washed ashore around 175 B.C.E. Their cuisine was basically Indian, and they observed kashrut.
Dough:
3 cups all-purpose flour
1 teaspoon salt
1/4 cup vegetable oil, plus 1 tablespoon for oiling the bowl
3/4 cup water
Potato Filling:
2 tablespoons vegetable oil
1/2 teaspoon black mustard seeds
1/2 cup finely chopped onion
2 teaspoons peeled and finely chopped fresh ginger
1 teaspoon fennel seeds
1/4 teaspoon cumin
1/4 teaspoon turmeric
2 boiling potatoes, peeled, boiled and cubed
1/2 cup fresh or frozen peas (I used a tin of peas and carrots)
1/2 teaspoon salt
1 tablespoon water
1 tablespoon finely chopped fresh cilantro (chadon beni)
1/2 teaspoon garam masala
3 cups vegetable oil for frying
Directions:
To make the dough: In a large bowl, combine the flour, salt and 1/4 cup oil, working the dough with your fingers to create a coarse meal. Pour in the water and knead vigorously for about 5 minutes, until a ball forms. Pour in the water and knead vigorously for about 5 minutes, until a ball forms. Add extra water if needed, a tablespoon at a time. Turn the dough out of the bowl and continue kneading until smooth. Wash out the mixing bowl and place 1 tablespoon oil in the bottom. Roll the ball in the oil several times so that all sides are coated. Cover the bowl with a damn clean dish towl and let the dough rest for 2 hours at room temperature.
Meanwhile, make the filling: In a medium skillet, heat the oil. When it is hot, add the mustard seeds; when they crackle and begin to burst, add the onion and ginger. Saut??? until the onion is soft, about 3 minutes. Add the fennel, cumin and turmeric, stirring. Add the potatoes, peas, salt and water.
Reduce the heat, cover and cook for 5 minutes to combine the flavours. Stir in the cilantro and the garam masal. Remove from the heat and set aside.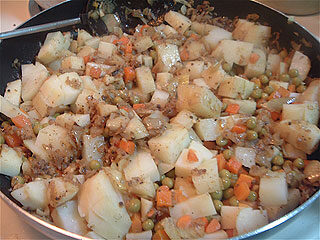 To prepare the samosas:
Pinch off a piece of dough the size of a large walnut, keeping the rest of the dough covered. On a lightly floured surface, roll the ball into a flat disk about 4 inches in diameter. Place 1 teaspoon of filling in the center of the circle and fold over to create a semicircle. Moisten the inner edges with water and pinch them closed.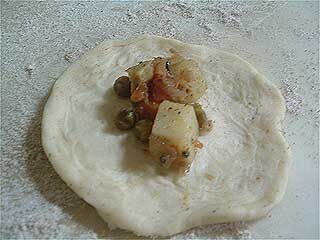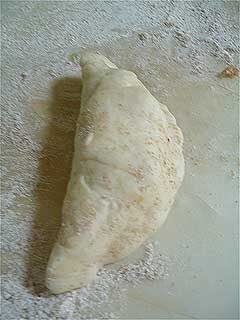 Lay each samosa flat on a plate and cover with plastic wrap or foil until all of them are ready for deep-frying.
To deep-fry, heat 3 cups oil in a large skillet to 375F; a cube of bread tossed in will brown quickly. Deep-fry the pastries 4 or 5 at a time until golden. Remove with a slotted spoon. Transfer to a paper-towel-lined platter. Serve hot or at room temperature
Makes about 30 samosas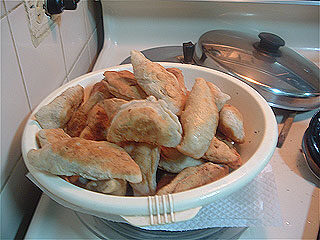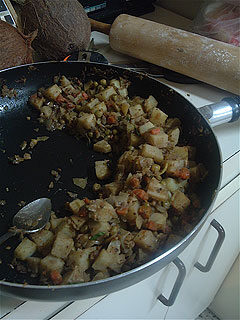 I had quite a bit of filling left over. I think I will use it in omelettes and fry it up for breakfast hash too? 🙂
---