Sorrel Drink (recipe & video)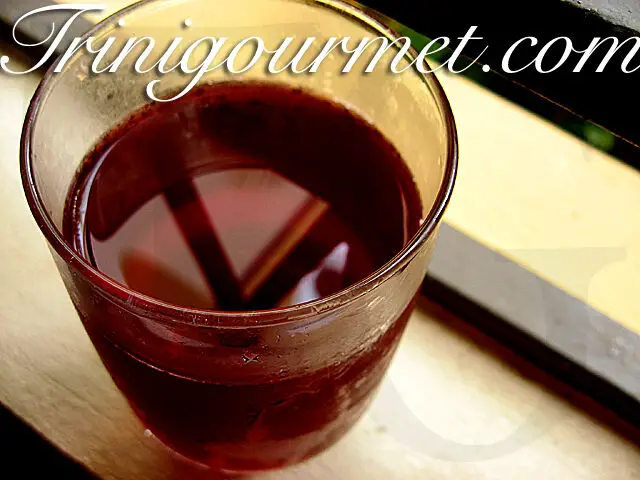 Christmas in Trinidad is a diverse multicultural affair. Not just for the Christian population, but also through the secular participation of the nation at large through the enjoyment of our local christmas songs (called parang) and especially the creation and consumption of our traditional Christmas foods. No Christmas in Trinidad would be complete without some rum-soaked black cake cold thick Punch de Creme, piping hot pastelles or a cold refreshing glass of sorrel.
Sorrel, made from the sepals, of the sorrel flower is fruity and fragrant. I have fond memories of sitting at my aunt's feet as a child, helping her to handpick the flowers. The seed of the sorrel is covered with fine prickly hairs that eventually find their way into the pads of your fingers. They are not painful but definitely annoying! A friend once told me that the petals are quite delicious raw with some salt. At first I thought she was insane but once I tried it I was hooked.
Similar in taste to hibiscus tea, sorrel becomes even more heavenly with the addition of rum 😉 Made properly your sorrel should be thick and syrupy. Fear not, just dilute it with some cold water or club soda when serving.
Sorrel Drink (recipe & video)
Sorrel drink, made from the sepals, of the sorrel flower is fruity and fragrant.
Ingredients
1 cup dried sorrel petals
1 tablespoon cloves
piece of dried orange peel
Brown sugar syrup (1 cup water + 1 lb brown sugar boiled together)
Dark rum, optional
Instructions
Boil 2 quarts of water.
Once water is boiling, add sorrel, orange peel and cloves.
Boil for 30 minutes.
Cover tightly and steep overnight.
Strain and add sugar syrup and rum (optional) to taste.
Chill and serve.
Watch me make sorrel on the 2nd episode of "Sweet Han': Caribbean Cooking with Sarina"…
This recipe is an exclusive TriniGourmet original. Please do not share it or post it to your site without crediting TriniGourmet.com. A link back to our site is not necessary but always appreciated 🙂
*Sorrel flowers are harvested around November and December. For those not in the Caribbean they can be purchased pre-packaged from Caribbean or African stores.
---