Steamed Cho-Cho (Christophene Pudding) (recipe/video)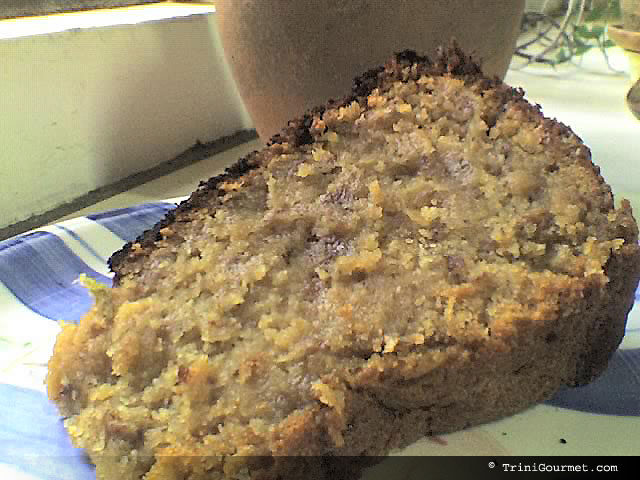 This recipe comes from the GraceFoods.com website and is my contribution this week to Weekend Herb Blogging (hosted this time around by What Did You Eat?)
Cho-cho is the Jamaican word for what we here in Trinidad call christophene. It is approximately 93% water and is neutral in taste. My research shows that it is also known as chayote in the United States.

You can read a lot more about chayotes on GourmetSleuth.com
Excerpt:
.
Chayote – pronounced [chah-YOH-teh]
The chayote is another native Mexican plant and is a member of the squash family. It is also referred to as a "vegetable pear" or chocho. In France the chayote is called a christophene. The flesh is quite crisp something like a water chestnut.
.
Chayotes come in two common varieties, the smooth variety… and a prickly variety (covered in spines).
I'm not sure about how this turned out. It is steamed, as are traditional Jamaican Christmas puddings, so although it tastes very similar to Trinidad Black Cake (and the ingredients and methodology are very similar), the texture is very different, much more like a pone. The lightness in color and lack of rum-soaking disoriented me though. And it was hard to keep the pudding from drying out afterwards. Maybe it's meant to be eaten all at once? My father loved it tho, and I liked it as well, it was just strange, how similar it could be and yet so different 🙂
Because this recipe calls for browning, and I have always been curious about bottled browning, I decided to buy my first bottle of the stuff instead of making it from scratch… the jury is still out…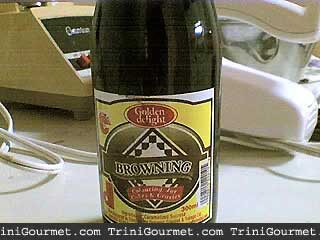 The best part is that making this prompted me to begin the process of soaking my fruit (mom calls it 'setting fruit) for this year's round of Black Cakes 🙂 I'll take update photos as the jar continues to fill 🙂
Steamed Cho-cho (Christophene Pudding)
——————————————————————————–
Recipe By: GraceFoods.com
Serving Size: 8
Ingredients:
2 cups cho-choes (christophenes/chayotes), washed, peeled, cooked and mashed
2 cups mixed fruits (raisins and mixed peel)
2 cups red fruit wine
2 cups soft margarine
2 cups brown sugar
6 medium eggs
6 cups all purpose flour
1 teaspoon mixed spice
4 tsps. baking powder
2 tsps. nutmeg
2 tsps. almond flavouring
2 tsps. vanilla
6 tsps. browning
Directions:
1. Preheat oven to 325???F/160???C. Grease and line cake tin.
2. Blend mixed fruits and wine.
3. Cream butter and sugar until light and fluffy.
4. Gradually beat in the eggs, beating well between each addition.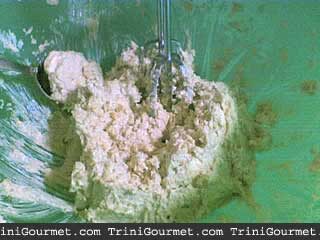 5. To the flour add the mixed spice, baking powder, nutmeg and fold this into the creamed mixture.
6. Add cho-choes, blended fruits, wine, almond flavouring, vanilla and browning to the flour mixture. Note that the consistency is like that of a very thick milkshake. You should -not- be able to stand your spoon upright in the batter tho!!!
7. Pour into lined baking tin, cover and steam for 2 hours or until a metal skewer inserted comes out clean.
Notes:
The steaming method produces a moist texture, typical of a Christmas cake. Care should be taken to seal the cover to prevent seepage of water. If you can, use a steamed pudding mold (shown below)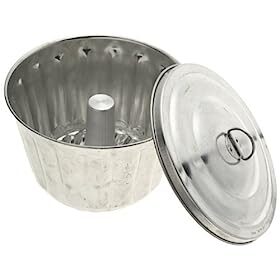 Patisse Steam Pudding Mold, 2-Liter
Variations:
A variation to the Jamaican Christmas Pudding
---