That Big Fat Banana Is A Plantain! (recipes) – Caribbean Beachcomber July/August 1969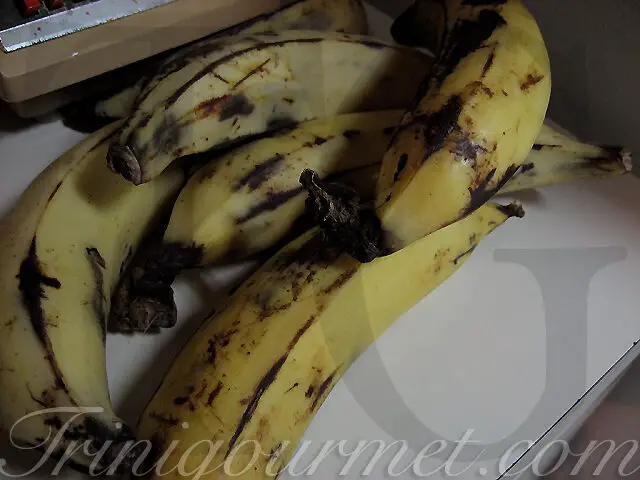 So funny the things we take for granted sometimes. Growing up around plantains all my life it never occurred to me, until recently, that this fruit is almost completely unknown in many parts of the world! It was only through various conversations with people, primarily from Europe, and an episode of the recently concluded MasterChef US, that I realized that it was high time to shed a little light on this oh-so-versatile mainstay of many Caribbean, Latin American and African dishes.
Or, to quote the title of the following article in my ongoing Caribbean Beachcomber 1969 series… "That Big Fat Banana Is A Plantain!".
(click thumbnail to view original clipping)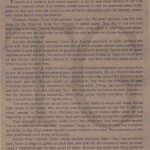 Transcript:

That big fat banana is a plantain!

Plantain is a versatile fruit which appears to be an over-sized banana. It can't be mistaken, however, since it is inedible unless cooked. It may be prepared when either green or ripe, but since the texture is very different depending upon its ripeness, consult your recipe before using the plantain.

Tostones (Puerto Rican fried plantain chips): Cut the green plantain into 3/4 inch silces on the diagonal. Soak five minutes in salted water. Dry, fry in hot oil until beginning to brown, remove from pan and flatten using a glass or other rounded object, and return to the pan to finish frying. Chips can also be made by slicing the plantain very thin and frying in hot oil.

Foo-foo (Barbados, Jamaica): Cook 4 or 5 green plantains in water without salt until soft. Peel them, cut into pieces and pound into a wooden mortar with a pestle. Dip the pestle in cold water frequently to prevent the plantain sticking. Pound until the paste becomes smooth and soft, mix with a little butter and salt if desired. Take out small balls of the foo-foo with a spoon dipped in cold water and serve with any creole soup, or reheat foo-foo in a hot oven.

Conquintay flour is made by slicing green full plantains lengthways and laying them to dry on a board in the sun several days, turning occasionally (Or dry them in the oven at a low temperature). After 4 or 5 days, when dry and crisp, pound the plantains while still warm and sift through muslin or cheesecloth. The flour has a number of uses, including coo-coo: 1 cup conquintay flour, 1 cup water, 1/4 tsp. salt, butter. Boil water and salt, remove from fire and add flour. Mix it gradually and when smooth, replace on the fire and boil, stirring constantly. When thick, butter thickly and serve. In Jamaica, this is known as a version of "stamp and go."

The green plantain can be cut into chunks and added to soups and stews. Boiled until tender in salt water, they are often used as accompaniment for salt fish in Jamaica, blood sausage in Puerto Rico. Plantains are also good roasted when green or just beginning to turn; many cooks serve them with butter added during the roasting period.

Ripe plantains are excellent when cut in thin strips and fried until golden brown; Puerto Ricans call this side dish "amarillos". Sugar or a mixture of sugar and cinnamon sprinkled on the strips makes the dish a sweet addition to a meal. Ripe plantains are also very good baked until tender with butter.

Puerto Rico's Dorado Hilton serves candied plantains: Select very ripe plantains, peel, make 3 diagonal dashes on each side and soak for 30 minutes in water to cover, using 1 tablespoon salt for each quart of water. Remove and drain well. Place plantains in greased shallow baking dish. Sprinkle with sugar and dot with butter. Cook in moderate oven (350 degrees) for 30 minutes. Turn, sprinkle again with sugar and dot with butter, and bake for 30 minutes longer. (Note: Cooking time depends upon size and state of ripeness of plantains. As a general rule, 30 minutes may be regarded as a minimum cooking time and 1 hour as the maximum.)

The Jamaica Cookery Book recommends plantain tarts: Boil very ripe plantains until tender and let them cool. Mash them very smooth, sweeten to taste, adding spice (such as nutmeg or cinnamon) to taste. Then color the mixture a deep red with the juice of prickly pear (or food colouring). Use as filling for tart shells or pastry turnovers.
Top 3 Plantain Recipes on Trinigourmet.com
Kelewele is a popular Ghanaian snack dish made from plantains..

2. Plantain (or Moko) Baked In Orange Juice (recipe)(recipe)

Plantain is rarely showcased this formally on dinner tables and it really is a shame. In this case, lengths of ripe plantain are oven-baked with orange juice and zest. The result is creamy, with a slightly caramelized exterior.

3. Fried Plantain (recipe)

Fried Plantain is a simple snack that appears to be common on tabletops across the Caribbean. I've grown up eating them my father's way which is to wait for the plantain skins to turn almost black before panfrying them on high heat, until they are slightly charred on the outside. Then, when done, immediately sprinkle the slices with brown sugar. YUM!
---