The Bon Appetit Cookbook: More than 1,200 of the Magazine's All-time, Best-loved Recipes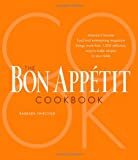 The Bon Appetit Cookbook: More than 1,200 of the Magazine's All-time, Best-loved Recipes
The Boston Globe says:
"There's a new addition to the category of doorstop cookbooks — which includes the venerable "Joy of Cooking and the timeless The Gourmet Cookbook. Bon Appetit bills itself as "America's favorite food and entertaining magazine " and is celebrating its 50th birthday with the 800-page "The Bon Appetit Cookbook" containing some 1,200 recipes. It tips the scales at 4 1/2 pounds. That's about the same weight as a roasting chicken (for which there are half a dozen recipes). If I had to sum up the "Bon Appetit" approach, it's this: simplify, multiply, and serve. Most of the recipes feed a gluttonous family of four well; many will serve twice that number. For a week while testing this cookbook, our refrigerator brimmed with leftovers, only a fraction of which could be dispatched the next day at lunchtime."
Order now from Amazon.com and get a free 1 year subscription to Bon Appetit magazine with your purchase!
Sample recipes include: Grilled Asian-Style Scallop and Asparagus Salad; Pomegranate, Beet, and Blood Orange Salad; Herb- and Garlic-Crusted Beef Tenderloin with Red and Yellow Bell Pepper Relish; Cranberry-Orange Cheesecake with Chocolate Crust
---