S.Pellegrino's World's 50 Best Restaurants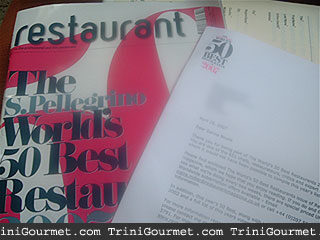 Several months ago I was excited and surprised to be asked to join the Caribbean panel for The S.Pellegrino World's 50 Best Restaurants survey. Of course I said yes!
Two weeks ago my official thank you letter, and the issue of Restaurant magazine that presented the final top 100 candidates, arrived. Sadly (but not surprisingly) no Caribbean locations made the cut. There simply isn't enough population I think for us to garner enough votes. I was a bit sad that there was not a list of the top finalists by region though, cos I would have been interested to see who did make the top 10 for the Caribbean.
You can view the Top 50 for yourself, and if you are lucky enough to live near some of these establishments check them out! 🙂 I know that I will be keeping this copy of Restaurant magazine near cos I hope to do some travelling in the future 🙂
For the professional and the passionate

Restaurant magazine was launched in London in 2001, in response to the phenomenal increase in interest in the industry in the UK. Under the stapline 'For the professional and the passionate', it quickly established itself as THE magazine for the quality end of the restaurant business, serving everybody from kitchen porter to head chef, from waiter to restaurant manager, as well as the owners, suppliers and service companies operating within the industry.

Based in London's Regent Street, in the heart of one of the world's most thriving restaurant communities, Restaurant has grown into a magazine of international influence, thanks in no small part to the success of The S.Pellegrino World's 50 Best Restaurants, which it launched in 2002. Restaurant magazine will continue to support the restaurant business, in the UK and around the globe, and is delighted to have the support of excellent partners in this endeavour.
---