Vegetable Curry In A Hurry (recipe)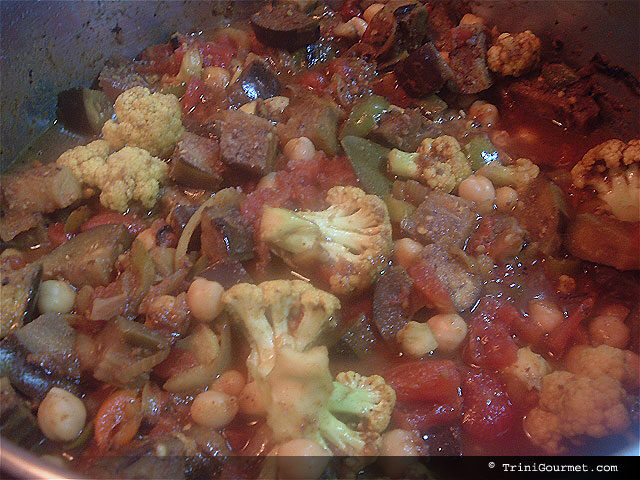 This has to be one of my favorite recent recipes. Its twist (for me) comes from the addition of mango chutney near the end. This really gives it a sweet n savoury kick that is hard for others to put their finger on. Since this recipe I've taken to adding a spoonful of chutney into my curry dishes as a matter of course 🙂
Because I used chive from our little herb garden (see below), I have also entered this into the Green Blog Project 🙂
Winter Vegetable Curry Aka Vegetable Curry In A Hurry
——————————————————————————–
adapted from a recipe by Rachael Ray
Serving Size: 4
Ingredients:
3 tablespoons EVOO ??????? Extra Virgin Olive Oil, divided
1 cups Basmati rice
4 cups chicken or vegetable stock, divided
1 bay leaf, fresh or dried
The zest of 1 lemon
1 teaspoon turmeric
2 teaspoons coriander
2 teaspoons cumin
??? teaspoon cardamom, optional
1 tablespoon butter
1 medium onion, thinly sliced
3 cloves garlic, chopped
1 small head cauliflower, chopped
1 firm eggplant, peeled and chopped (I peel away only half of the skin ??????? I like the color and texture of a little of the black skin in this dish.)
1 red bell pepper, seeded and chopped
1 can 14-ounce fire roasted diced tomatoes, drained
1 can 15-ounce chick peas, drained
Salt and pepper
3 slightly rounded tablespoons mild or hot curry paste
3 tablespoons rounded mango chutney
3 scallions, chopped, garnish
A handful of cilantro or parsley, to garnish
Toasted slivered almonds or pieces of cashew, garnish
Directions:
Heat a medium pot over medium heat with EVOO. Add rice and toast a minute or two. Add 3 cups chicken or vegetable stock and the bay leaf, lemon zest, turmeric, coriander, cumin and cardamom. Cover pot and bring rice to a boil. Reduce the heat and simmer rice 18 minutes. Fluff rice with a fork, remove bay leaf and add butter. Toss to coat the rice evenly, then serve.
While rice cooks, make the vegetables. Heat a deep nonstick skillet over medium high heat with 2 tablespoons EVOO. Add onion, garlic, cauliflower, eggplant and bell pepper. Cover and cook stirring occasionally 7-8 minutes until tender.
(because I used curry powder I added it at this stage and sauteed the powder along with the veggies 🙂 )
Uncover and add the tomatoes, chick peas, salt, pepper, curry paste, chutney and remaining 1 cup chicken or vegetable stock. Simmer 6-7 minutes longer.
Garnish with scallions, cilantro or parsley and nuts.
---