Causa a la Chiclayana – Potatoes with Fish & Vegetables (recipe)
From April 17-19 2009 Trinidad will host the Fifth Summit of the Americas. In recognition of this event, I am cooking my way through the dishes of the member countries. Enjoy! 🙂

My first stop on my culinary tour of the member states that will be coming down to Trinidad next month for the Summit of the Americas is Peru, a country that I know very little about except for the odd mention in a history book, nature channel show, or piece on International News. Food wise, I knew little more than cerviche (which I love) so I was pleased and surprised to learn that Peruvian cuisine is highly regarded on the International scale. It boasts over 250 national desserts and 2000 soups (something I can barely wrap my head around!)
In January 2004, The Economist stated that "Peru can lay claim to one of the world's dozen or so great cuisines", while at the Fourth International Summit of Gastronomy Madrid Fusión 2006, regarded as the world's most important gastronomic forum, held in Spain between January 17 and 19, Lima was declared the "Gastronomic Capital of the Americas".

Source: Peruvian Cuisine on Wikipedia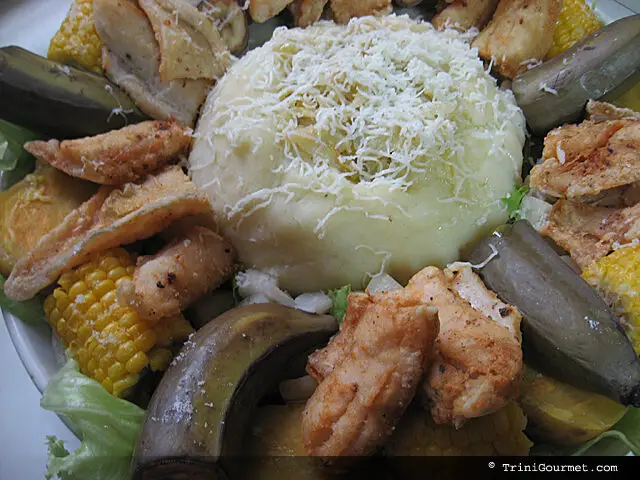 This dish "Causa a la Chiclayana" comes from the northern coastal city of Chiclayo. It's central focus is a mound of mashed potatoes, flavoured with lemon juice and salt. The lemon juice gives the dish an interesting piquant quality which I don't normally associate with mashed potatoes. One of the exciting things about cooking dishes from other cultures, is to see the various ways they 'reinvent' ingredients that we assume we know. This dish definitely did that for me. I especially enjoyed it's 'all in one quality'. With fried fish and boiled vegetables and starches surrounding the potatoes, this is interactive 'self-serve' eating at its finest. My parents and J really enjoyed working their way around the circumference, picking and choosing the various elements. With it's impressive presentation and relative ease of assembly, this is definitely a recipe that I'm looking forward to making again 🙂
Links:
• Peruvian Cuisine (Wikipedia)
• Typical Food of Chiclayo
Causa a la Chiclayana – Potatoes with Fish & Vegetables
Source: The Book of Latin American Cooking

Serves 6
INGREDIENTS:
1/4 cup finely chopped onion
1/2 cup lemon juice
1/8 teaspoon cayenne pepper
salt
freshly ground pepper
3 pounds boiling potatoes, peeled and halved
1-1/2 cups olive oil plus 4 tablespoons
1 pound sweet potatoes, peeled and cut into 6 slices
1 pound cassava (yucca) root, peeled and cut into 6 slices
3 green plantains or green bananas
2 ears corn
flour (use rice flour for gluten-free)
2 pounds striped bass fillets, cut into 2-inch pieces, or any firm white fish
3 fresh hot red peppers, about 4 inches long, or use hot green peppers
3 medium onions, cut into 1/8 inch slices
1/2 cup white vinegar
lettuce leaves
1/2 pound Spanish fresh cheese (Queso blanco or queso fresco) or Munster cheese, cut into 6 wedges
lettuce leaves
black olives (I didn't have any on hand which is why they're not in the photo 😉 )
METHOD:

1. In a small bowl combine the finely chopped onion, lemon juice, cayenne pepper, and salt and pepper to taste. Set aside. Cook the potatoes in salted water until they are tender, but not mushy. Drain well and mash. Add 1 cup of the olive oil to the onion and lemon juice. Pour this dressing over the potatoes, mixing thoroughly. Make a mound of the potatoes in the center of a large round platter and keep warm, not hot.
2. Boil the sweet potatoes and cassava in salted water for 20 minutes, or until they are tender. Drain and keep warm. It does not matter if the cassava slices have broken up. In a separate saucepan boil the plantains, unpeeled but cut in half if necessary to fit the pan, until tender, about 30 minutes. Green bananas will take less time, about 15 minutes. Peel and cut into 12 slices. Keep warm with the sweet potatoes and cassava. Drip the corn into a large saucepan of boiling salted water and boil for 5 minutes. Cut each ear into 3 slices and put with the other vegetables.
3. Season the flour with salt and pepper. Dredge the fish pieces in the seasoned flour, shaking to remove the excess. In a skillet heat the 4 tablespoons of olive oil and fry the pieces of fish until they are golden brown on both sides, about 3 or 4 minutes. Drain on paper towels and keep warm.
4. Cut the peppers into 1/8-inch strips and put, with the sliced onions, into a saucepan of boiling water. Blanch for a few minutes then drain well. Add the remaining 1/2 cup olive oil, the vinegar, and salt and pepper to taste. Bring to a boil over low heat and cook, covered, for 2 or 3 minutes.
5. To serve, garnish the platter round the edge with lettuce leaves. Arrange the fish fillets, corn, sweet potato, cassava, and plantains or bananas on the lettuce leaves. Pour the onion and pepper mixture over the potatoes and garnish the mound with the wedges of cheese and black olives.
---