Falafel (recipe)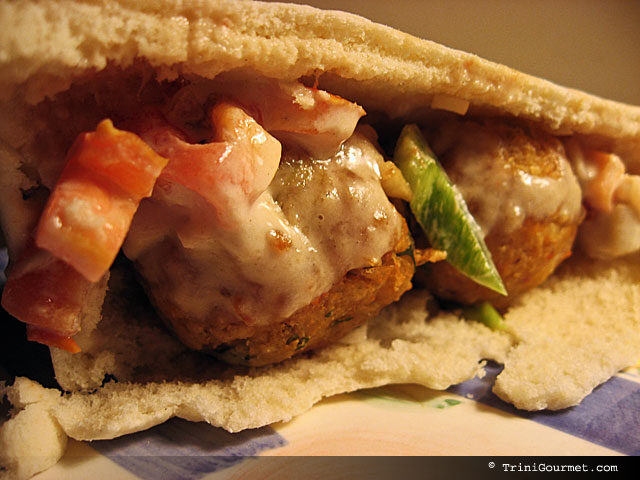 Falafel is an item that depending on your part of the world is either par for the course, or an unheard of oddity. Growing up here in Trinidad falafels were not part of my culinary experience, however in the last few years, Syrian-Lebanese eateries have become more and more popular and Middle Eastern fare has become well-loved outside of their original ethnic communities.
The falafels that I've heard over the past few years have varied from depressing to sublime. I've noticed that I don't really care for the dryer varieties, and that tahini sauce is ultimately the purest of soul mates when it comes to dressing these fried balls of ground chickpeas.
When it came to submitting a recipe for Vegan Ventures and My Legume Love Affair (created by The Well Seasoned Cook) falafel truly killed two food events with one dish! 😆 Because of my current kitchen situation I took several shortcuts that I think ultimately undermined the integrity of the dish, however I will only apologize to an extent as the finished results were sublime in terms of the richness and complexity of flavour, and the creaminess of texture. Dare I say it surpassed many of the falafels I have paid for!
The first of the shifts that I made was to use canned chickpeas instead of soaked, dry ones. I made this decision because I don't have a food processor and my blender is currently in a state where I worried that dry chickpeas may challenge the motor a little too much. The results lacked a certain grit that I do enjoy, so I think that first chance I get to try this recipe with raw chickpeas I will definitely do so, just to measure the difference. Also, because of the state of the blender, the items did not grind as finely as I would have liked, and as you can see some rather chunks existed in places. This also bothered me a little, but I decided to move forward regardless. I can always try it again n'est-ce-pas? 😉 When it came to adding the flour, I found i needed to add quite a bit more in order to get a good cohesion going, but I don't know if this was also because I had used canned chickpeas.
As I've seen some people having trouble making the tahini paste in comments on other sites I'll throw in my two cents. When initially adding water to tahini, the mixture will 'seize up' and appear to clump and become coarse. Just ignore that and keep whisking in more water with a fork. The mixture will eventually free up and become a milky white, so be patient 🙂 In my case I tossed the chopped vegetables into the tahini sauce and let them rest together for a while before spooning into the pita pockets and drizzling over the fried falafel.
Although I am not a vegan (or vegetarian), I do try to keep meat and fish consumption to a minimum in my day to day life. This recipe has already been starred as one to add to my 'snack' repertoire. It is so light yet filling, quick to assemble, and leaves you feeling completely guilt free. Enjoy! 🙂
Falafel
Source: The Foods of Israel Today
Makes 6 servings
INGREDIENTS:
1 cup dried chickpeas
1/2 large onion, roughly chopped (about 1 cup)
2 tablespoons finely chopped fresh parsley
2 tablespoons finely chopped fresh cilantro
1 teaspoon salt
1/2-1 teaspoon dried hot red pepper
4 cloves of garlic
1 teaspoon cumin
1 teaspoon baking powder
4-6 tablespoons flour (substitute with cornflour if gluten-free)
Soybean or vegetable oil for frying
Chopped tomato for garnish
Diced onion for garnish
Diced green bell pepper for garnish
Tahina sauce
Pita bread
METHOD:
1. Put the chickpeas in a large bowl and add enough cold water to cover them by at least 2 inches. Let soak overnight, then drain. Or use canned chickpeas, drained.
2. Place the drained, uncooked chickpeas and the onions in the bowl of a food processor fitted with a steel blade. Add the parsley, cilantro, salt, hot pepper, garlic, and cumin. Process until blended but not pureed.
3. Sprinkle in the baking powder and 4 tablespoons of the flour, and pulse. You want to add enough bulgur or flour so that the dough forms a small ball and no longer sticks to your hands. Turn into a bowl and refrigerate, covered, for several hours.
4. Form the chickpea mixture into balls about the size of walnuts, or use a falafel scoop, available in Middle-Eastern markets.
5. Heat 3 inches of oil to 375 degrees in a deep pot or wok and fry 1 ball to test. If it falls apart, add a little flour. Then fry about 6 balls at once for a few minutes on each side, or until golden brown.
6. Drain on paper towels. Stuff half a pita with falafel balls, chopped tomatoes, onion, green pepper, and pickled turnips. Drizzle with tahina thinned with water.
NOTE: Egyptians omit the cilantro and substitute fava beans for the chickpeas.

• Tahina (also called tahini) is an oily paste made from ground sesame seeds. It is available in Middle Eastern markets and you can also buy Tahini from Amazon.com (For Trinis you can get it at Peppercorns and Malabar Farms and occasionally I have seen it at HiLo)
• To garnish your falafel in true Israeli style, try adding one or several of the following condiments: harissa hot sauce, pickled turnip, mango amba (pickle), or sauerkraut.
---