Homemade Tomato Soup (recipe)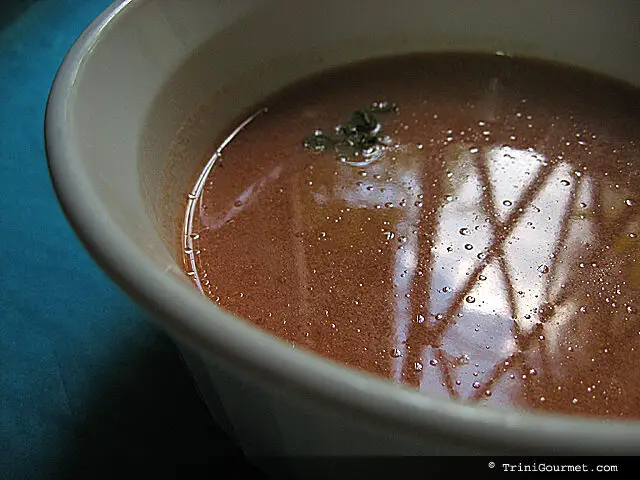 This recipe from Michael Chiarello is one of my all-time faves for tomato soup. It is so simple and easy to put together. Since I originally made it earlier this year, on a rainy evening, it has become one of my fail-safes for when I get late-night hunger pangs. With it's warm smooth texture I can only imagine, it would be a lovely wintertime snack as well for those of you in the Winter latittudes 🙂
The bulk of the preparation time is used in slow-cooking each component. Don't rush the process, as the slow-cooking is what adds incredible depth of flavour. I personally have never felt the need to add additional cream, I find the butter makes the soup silky enough on its own. Who knows though, I may add some in the future 🙂 If you do decide to add the cream, feel free to let me know your thoughts 🙂
Homemade Tomato Soup
SOURCE: Food Network / Michael Chiarello
Makes 2-3 servings
INGREDIENTS:
1 can (14-ounce) chopped tomatoes
3/4 cup extra virgin olive oil
Salt and freshly ground black pepper
1 stalk celery, diced
1 small carrot, diced
1 yellow onion, diced
2 cloves garlic, minced
1 cup chicken broth (I use vegetable)
1 bay leaf
2 tablespoons butter
1/4 cup chopped fresh basil leaves
1/2 cup heavy cream, optional (I omit this)
METHOD:
1. Preheat oven to 450 degrees F.
2. Strain the chopped canned tomatoes, reserving the juices, and spread onto a baking sheet, season with salt and pepper, to taste, drizzle with 1/4 cup of the olive oil and roast until caramelized, about 15 minutes.
3. Meanwhile, in a saucepan, heat remaining olive oil over medium-low heat.
4. Add the celery, carrot, onion and garlic, cook until softened, about 10 minutes.
5. Add the roasted chopped canned tomatoes, reserved tomato juices, chicken broth, bay leaf and butter.
6. Simmer until vegetables are very tender, about 15 to 20 minutes.
7. Add basil and cream, if using.
8. Puree with a hand held immersion blender until smooth.
---