Kung Pao Chicken (recipe)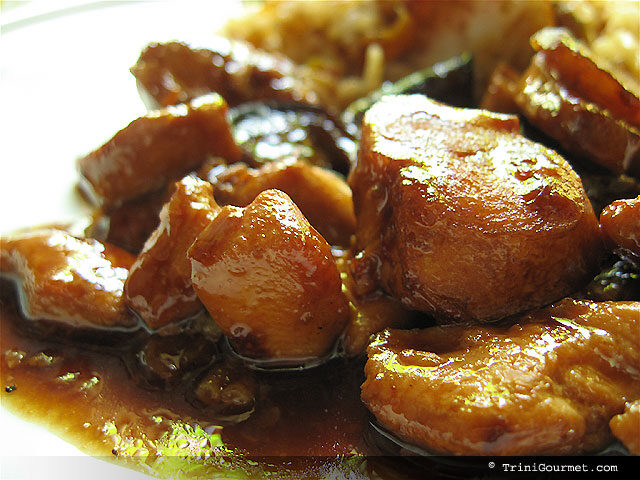 A very simple fiery and flavourful chicken dish that comes together quickly. The most unexpected part of the flavour medley is the candy-like sweetness of the fried (until charred) sweet peppers.
From Wikipedia:
Kung Pao chicken (also spelled Kung Po chicken) is a classic dish in Sichuan cuisine, originating in the Sichuan Province of central-western China. The dish is named after Ding Baozhen (1820–1886), a late Qing Dynasty official. Born in Guizhou, Ding served as head of Shandong province and later as governor of Sichuan province. His title was G?ng B?o (??), or palatial guardian. The name "Kung Pao" chicken is derived from this title.
Kung Pao Chicken
Recipe by MacGourmet
Makes 4 servings
INGREDIENTS:
2 Boneless skinless chicken breasts, cubed
4 Whole Thai peppers, minced
¼ cup Peanuts, roasted
1 teaspoon Fresh ginger, minced
½ Green pepper, cubed
½ Red pepper, cubed
¼ cup Water chestnuts, sliced
¼ cup Mushrooms, sliced
2 Scallions, chopped
Peanut oil
Seasoning:
4 tablespoons Soy sauce
2 tablespoons Chinese rice wine or Sherry
2 tablespoons Sugar
2 teaspoons Corn starch
1 teaspoon Salt
2 teaspoons Sesame oil
1 teaspoon White vinegar
Marinade:
1 ½ tablespoons Corn starch
1 tablespoon Water
1 tablespoon Soy sauce
DIRECTIONS:
Mix the chicken, water, cornstarch and soy sauce and marinate for 1/2 hour.
Mix the seasoning sauce and set aside.
Heat a little oil in a wok or large frying pan and stir-fry the chicken until it is cooked. Remove and set aside on paper towels.
Heat a little oil in a wok or large frying pan, stir fry the red and green peppers until they turn slightly black.
Add the fresh ginger and stir fry for about 10 seconds, stirring constantly.
Add the seasoning sauce, stirring until thick.
Add the cooked chicken, stir until thoroughly heated.
Add scallions, chinese or thai peppers and cook for 1 minute.
Turn off the heat, add peanuts, mix well and serve.
This post was originally published on September 11th, 2007. It has been updated once since then.
---