Mango Cake (recipe)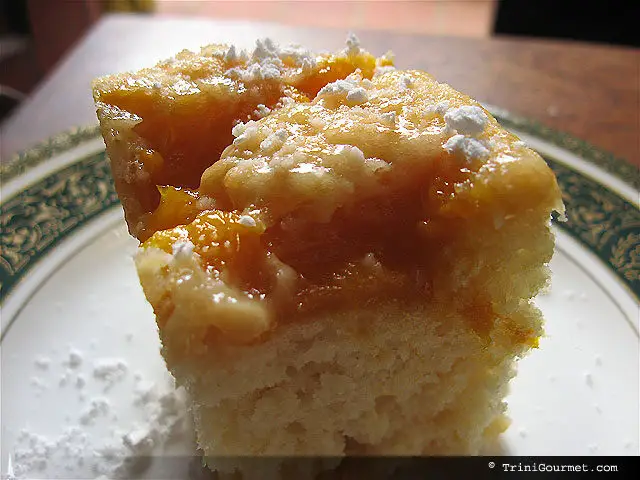 This month's theme of Sugar High Friday is "tropical paradise". Well seeing as I live on the very tropical island of Trinidad this should be a cinch! 🙂 Currently, mangoes are in season and we are buried under several bags of the good stuff (courtesy of friends and neighbours) so I have been trying to use them in as many ways as possible. So far I have made my Coco-Mango smoothie, and a Tropical Mango hot sauce. So why not come up with a mango dessert? 🙂
Most mango desserts seem to fall into the fruit salad variety, and though I love these as much as the next person I wanted to take the fruit into a more unexpected direction. This recipe for Mango Cake (courtesy of Grace Foods) fit the bill. All too often I find that we here in the tropics kill ourselves trying to locate fruits from the temperate regions to recreate European/American cakes, tarts and pies when we have perfectly valid and delicious substitutes growing in our yards! That these fruits may not be 'traditionally' used in these manners doesn't mean that they can't be. The resistance I got from others when I decided to use the local fruit 'five fingers' to make what turned out to be an extremely well-received Carambola Bread, proved just how little 'thinking out of the box' there still is. There's a fine line between tradition and caricature and I see no reason why a blueberry pie can't be transformed into a guava pie, or why a strawberry cake can't become a mango cake. Take a moment to rediscover the tropical fruits and vegetables you have on hand and you may be surprised at how much more they have to offer 🙂
This mango cake is very light and elegant in appearance, especially when topped with a dash of icing sugar. The batter is topped with brown sugar and butter which crystallizes to form a delicate stresuel topping and the slivers of ripe mango settles themselves throughout the batter forming succulent counterpoints of sweetness. The mango flavour intensifies the longer it sits so wait an hour or two before serving.
Mango Cake
Recipe from: GraceFoods.com
Makes 16 servings
INGREDIENTS:
2 cups (500 ml) all purpose flour (I used cake flour)
2 tsps. (30 ml) baking powder
¼ teaspoon (1 ml) salt
½ cup (125 ml) soft margarine
? cup (150 ml) granulated sugar
2 medium eggs
¼ cup (60 ml) clear sweet unflavoured syrup
1 teaspoon (5 ml) vanilla
2 Tbsps. (30 ml) brown sugar
2 Tbsps. (30 ml) soft margarine
1 large mango, sliced
DIRECTIONS:
1. Preheat oven to 350°F / 180°C. Grease and flour one 8″×8″×2″ / 20cm×20cm×5 cm.
2. Sift together flour, baking powder and salt. Cream margarine, adding sugar gradually, blend thoroughly.
3. Add eggs one at a time, beating well after each addition. Add syrup and vanilla.
4. Fold in flour and scrape batter into cake tin. Arrange mango slices on top.
5. Sprinkle sugar on top, and dot with butter.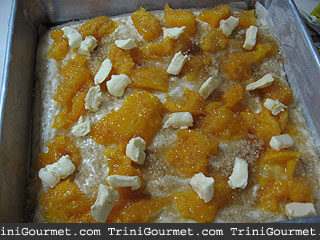 6. Bake until done or when skewer inserted in the centre comes out clean (approx. 60 – 70 minutes)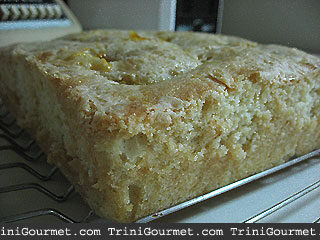 7. Cut into 16 squares
8. Dust with icing sugar before serving
---