REVIEW: Cooking with Three Ingredients (Flavorful Food Easy as 1,2,3)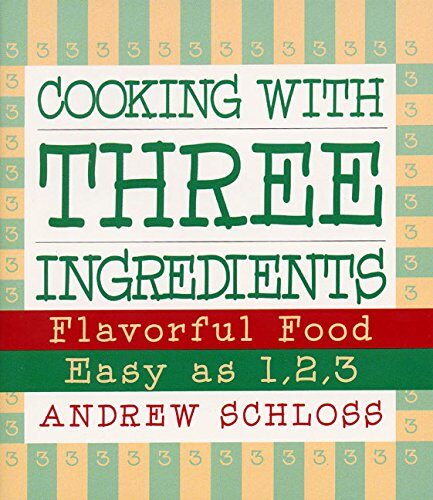 "Cooking with Three Ingredients: Flavorful Food, Easy as 1, 2, 3
"
Am I the only home cook who has their 'fallback' book? It seems like no matter how many cookbooks I collect, how many websites I bookmark or magzine clippings I compile, when I'm in a rush, or money is tight there are 2-3 cookbooks that I keep returning to for salvation and inspiration.
One of my trusty fallbacks is Andrew Schloss' "Cooking with Three Ingredients: Flavorful Food, Easy as 1, 2, 3
". I listed it as one of lifechanging foodie items of 2006. As the title states all the recipes are 3 ingredients long. This makes it invaluable for me as I am usually on a tight budget. Often when menu planning I will have one new dish that I want to try or showcase, and then I will complement it with one or two finds from this book.
So you are probably wondering if one can really get good taste and results with just three ingredients? No one has been more skeptical of this than my mother, who refuses to flip through it when looking for ideas. It doesn't matter how many times a dish that I have made from it gets raves she still thinks 3 ingredients is not a recipe 😆
If you don't have any such hangups you will find that "Cooking with Three Ingredients: Flavorful Food, Easy as 1, 2, 3
" could quickly become your culinary secret weapon! Because of the paucity of ingredients quality is even more important. This is true in general with cooking, but with only 3 ingredients you -really- want to have the best quality of each ingredient that you can afford. Although there is a convenience food section, it is probably the section that I use the least. Believe it or not fresh ingredients do make up the majority of this book's pantry.
Recipe sections include:

?????? Dips, Spreads, Appetizers and Snacks
?????? Soups, Chowders, Broths, and Bisques
?????? One, Two, Three Chicken Magic
?????? Meaty Matters
?????? Simply Seafood
?????? Instant Pasta Sauces
?????? Savory Vegetables, Salads, and Sides
?????? Sizzling Sauces, Marinades, and Rubs
?????? Three Ingredients Great on the Grill
?????? Just-A-Minute Desserts
?????? The Convenience Food Connection
Subsitutions should be a no-brainer for the homecook, and additions of course are entirely up to you 🙂 There are times I added additional spices and other ingredients because I had them on hand. However the main comfort of this book is in knowing that the dish would not have suffered without these additions, and that I am not any further out of pocket as a result 🙂
Book Description:
.
There's magic in the number three. And when it comes to cooking, the number three can create culinary magic in your kitchen. In this fabulous, original collection, three ingredients add up to much more than the sum of their parts. Choose a simple starter, such as Smoked Salmon Mousse, Very Cheesy Nachos, Mustard-Cured Shrimp, or Chunky Corn Chowder, or go for the main event with Lemon Pepper Chicken, Balsamic-Glazed Sirloin, or Grilled Honey Mustard Pork. There are three-ingredient pasta sauces, delectable vegetables and sides, and even "almost instant" desserts.
.
Using only three ingredients means less shopping, less preparation, less cleanup — and best of all, less time. And with the many creative ways author Andrew Schloss has put these together, no one will guess that you haven't slaved for hours in the kitchen. You'll find these recipes exceptionally easy — and unbelievably delicious.
---