BBM 2.0 – Tagliatelle with Mushrooms
In my Blogging by Mail package was a package of odd looking brown noodles. I wasn't sure at first what they were. From the italian text I could figure out it was pasta, but with mushrooms? Was i reading it wrong? Turns out I wasn't! This package comes from a pasta house called Morelli, you can visit their website here (it's only in Italian at the moment though but really gorgeous and the variations of pasta they create, including cocoa infused, are mindboggling!). I have not cooked with my mushroom pasta yet. I think I will wait until the week after Passover when it will be kosher for me to eat flour based stuff again 🙂 Eva says it's her very favorite pasta so I can't wait! As soon as I use it I'll let y'all know 😀
EDIT (May 4, 2007): I used this pasta in a recipe for Pasta with Basil, Tomato and Lemon Zest. It was very woodsy and nutty in flavour with a firm texture. The mushroom flavour was quite intense and I felt it was a shame to throw out the pasta water as a result. Next time that I have a pasta like this on hand I will find a use for that water 🙂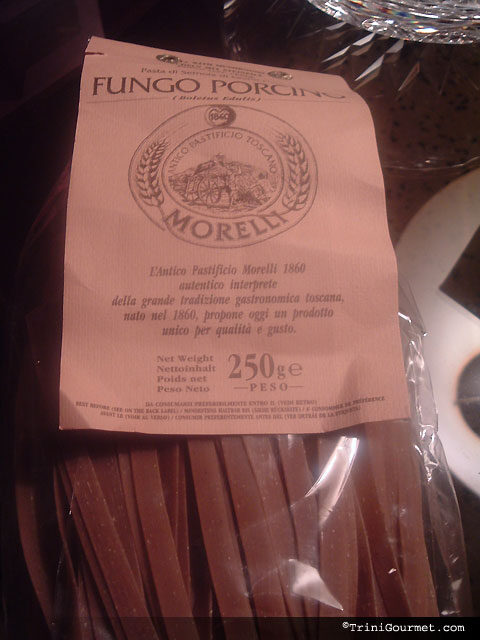 From Gustobene.com:
Morelli has been making its pasta the same way since 1860. This pasta is unique, its secret lies in the wheat germ.
.
The products of the ancient Morelli pasta production factory are unique, the secret being an ingredient that is not found in most common types of pasta, which is wheat germ, the heart of the grain itself and which contains vitamin A, vitamin D, as well as vegetable protein. During the normal cereal grinding process, the wheat germ is removed from the semolina in order to reduce the perishability of the product, which means that the pasta factories are forced to process the flour without the wheat germ.
.
But thanks to the craft workmanship methods used by the Morelli pasta factory the wheat germ , that is always fresh, is re-incorporated into the semolina; and this has given rise to our slogan "?OUR PASTA IS SOMETHING ELSE". Through years of using the wheat germ ingredient the ancient Morelli pasta factory has succeeded in obtaining a pasta with a unique and delicious taste, which releases a wonderful aroma on cooking, the cooking water, taking on a slight green hue, as the result of the presence of the fresh wheat germ ingredient.
.
Pasta Morelli is considered to be of the finest quality, not only because of its wheat germ ingredient, but also because it selects the best semolina, which is processed according to craft technique. The machines slowly press the kneaded mixture after having hand rolled it on frames, the drying process occurring in cold storage rooms where the pasta remains for 36 hours at a low temperature. Thereby maintaining the intrinsic taste and nutritious properties of the product.
.
The ancient Morelli Pasta factory was founded in 1860, and is a family-run enterprise, the fifth generation of the Morelli family, siblings Lucia, Antonio and Marco, continue to run the company today preserving its traditions. It produces a vast range of specialities, using ancient craft techniques, free of both preservatives and colouring agents.
.
The result is truly wholesome pasta, with a wonderfully rich flavour and full consistency.
.
The Morelli product range includes classic pasta varieties such as wheat germ Tacconi, and traditional types such as Pici di Siena and Spelt Tagliatelle. It also produces a range of aromatised pasta varieties with specialities flavoured with saffron, Boletus mushrooms and sepia, thereby providing the fullest and most comprehensive pasta making range.
---