REVIEW: Häagen Dazs – Ellerslie Plaza, Maraval
I was first introduced to Häagen Dazs when I lived in the US so it was with great joy that I received the news several years ago that Häagen Dazs would be distributed locally via local supermarkets! Although the prices were astronomical, the quality of texture and flavour made it the perfect occasional indulgence for my palate. Then, in 2003, Hadco (the local distributor for Häagen Dazs) opened a Häagen Dazs cafe at Ellerslie Plaza in Maraval. Although I often passed it I never went inside. I'm a creature of habit and naturally 90% hermit, something that this site has been helping me to push beyond, so it was great interest and curiousity that I decided to change that last week 🙂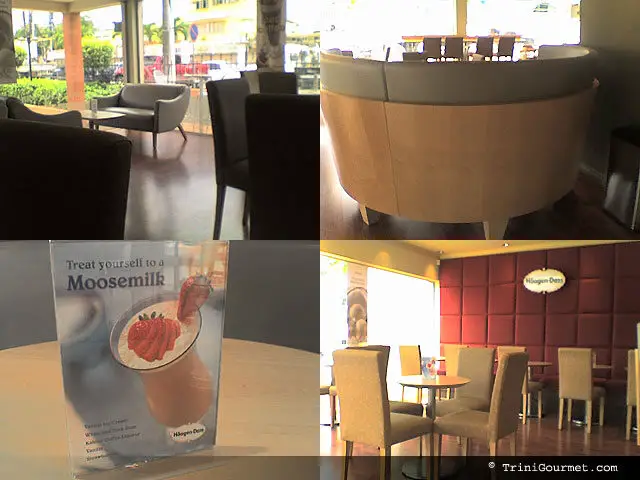 From the moment that I entered I was impressed. The decor is very pristine and airy and ambient electro-lounge plays at a comfortable volume, instantly transporting you into another world, away from the heat, traffic and tensions just a glass pane away. Myself and the two other women who entered as the cafe opened were both newbies and the server was very courteous, professional and attentive to our needs and questions. Something that one definitely appreciates and makes note of in this country!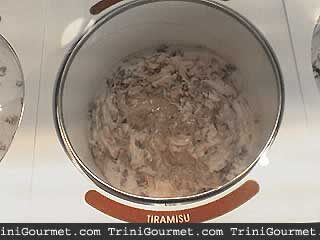 After looking at the array of flavours (which are regularly rotated) I decided to purchase a small cup ($15) of tiramisu icecream. The café also sells cakes and brownies, and I promise that I will sample (and share) those at another point.
Comfortable chairs, couches and what I called 'pods' are all around so I quickly settled into one of the 'Pods' with my icecream – eager to both taste it, and to take advantage of the café's free Wi-Fi capabilities.
As I settled into the groove of the electro-lounge beats, and opened my email application, I took my first taste of the tiramisu…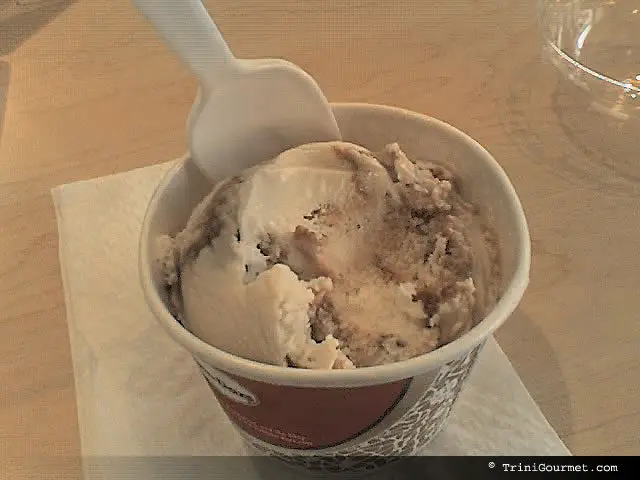 My my my my my my my …. this is what I have been missing people!!! Dense creamy vanilla interlaced with intense espresso and crunchy almond biscuit chunks, it was almost a meal unto itself. I definitely took my time to savour it all.
I had not purchased a drink ($7 for a softdrink?!?) so was pleasantly surprised when the server placed a glass of water on my table. These days complimentary water is getting rarer and rarer so I definitely took note of that as well.
On my table was a promo for a shake called a MooseMilk that included icecream, kahlua, chocolate, strawberries and who knows what else. The server told me it cost $38, and I think I will get one my next time around, along with a white chocolate-raspberry brownie that I had been eyeing 😀

Behind me was a magazine rack that included copies of
Gourmet Magazine
, I think that was the touch that sealed the deal for me 🙂 This was a place that I was gonna make my own. (It also didn't hurt that the huge posters for
their new Fondue stations
had me planning who I could call to make a lime 😛 ).
As I left I pondered the amusing, and I'm sure unintentional irony that Häagen Dazs, a Jewish-American concoction, named in gratitude for the civilian heroes of World War II was now housed on the grounds of what was at one point a local World War II POW camp, housing both captured German soldiers, as well as German and Eastern European Jewish refugees who after having found refuge in Trinidad, were then deemed of 'enemy aliens' once war was declared.
From Joan Nathan's Jewish Cooking in America: Expanded Edition (Knopf Cooks American):
.
Probably the most famous Jewish ice-cream concern is Häagen-Dazs. Reuben Mattus, a Polish immigrant, started in the ice-cream business in the 1920s as a child of ten just after he and his widowed mother, Leah, stepped off the boat… Mattus' new kind of ice cream went against the rules and was so heavy that he had to change his equipment.
.
"I prided myself on being a marketing man. If you're the same like everybody else you're lost. The number one thing was to get a foreign sounding name. The only country which saved the Jews during World War II was Denmark, so I put together a totally fictitious Danish name and had it registered. Häagen-Dazs doesn't mean anything. It would attract attention, especially with the umlaut. If I made good ice cream I wanted my people to get it, so I made it kosher… I made a special ice cream for people who wanted a special taste. That was my attempt and it worked. It sold by word of mouth."
Well I definitely think that Mr. Mattus achieved that special taste. One that I plan to return to again and again. Yes, Belgian chocolate, Macadamian Brittle, Coconut Macaroon, I'm looking at you! 😆

Häagen-Dazs Trinidad
Ellerslie Plaza
Maraval
Port of Spain
868-622-8833
.
View all locations (Maraval, San Fernando, Tobago)
.

.
TG Rates This Experience:

Taste – 5/5
Ambience – 5/5
Price – 4/5

Overall Rating: 4.7/5
---