REVIEW: Vegetarian Express : Easy, Tasty, and Healthy Menus in 28 Minutes(or Less!)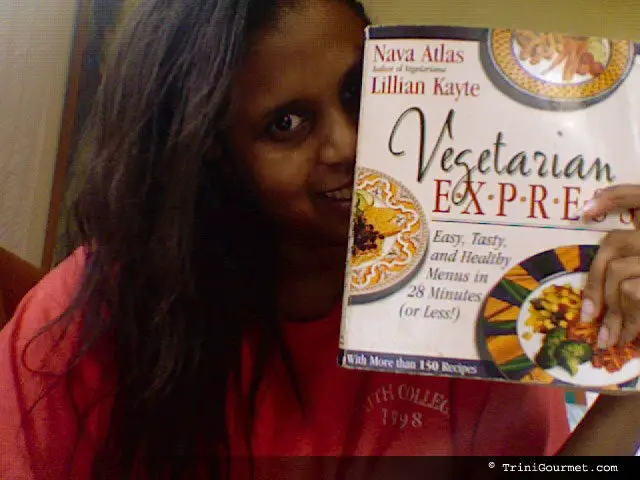 Well there you go. I normally don't post pictures of myself as I am a rather private person, however YumSugar's "Show us your cookbooks" online event was just the thing for me to 'momentarily' come out of hiding 🙂
The book that I am holding up is Nava Atlas' "Vegetarian Express : Easy, Tasty, and Healthy Menus in 28 Minutes(or Less!)
"one of my oldest (and favourite) cookbook purchases. Its main selling point is that the menus can come together in under 30 minutes, and even more beautifully they don't rely on prepackaged and processed products as much as you may think 🙂 I've made most of the recipes of this book to date and so far all have been successes. I can't guarantee that each recipe (let alone an entire menu) will take you under 30 minutes however the recipes do come together quickly, with relatively little mess, and the majority of the ingredients called for will already be in your pantry (or are extremely affordable, if not).
Book Description:
Vegetarian Express : Easy, Tasty, and Healthy Menus in 28 Minutes(or Less!)claims that each of its recipes can be prepared in 28 minutes or less. If preparation time sometimes stretches to 40 minutes on a few of the more complicated recipes, it hardly matters, for you end up with an extraordinarily delicious, low-fat meal in as much time as it takes for the local pizza place to deliver one of its greasy pies. This book was written with busy people in mind: folks who like to eat well but don't have the time to spend steaming, blanching, soaking, and simmering after a full day of work. Instead, Nava Atlas and Lillian Kayte encourage cooks to use prepared foods as often as possible: canned chickpeas, frozen spinach, and quick-cook rice add up to a blissful curried chickpea stew; frozen corn, canned olives and tomatoes, and tortillas combine to make a dynamite Mexican lasagna. The book is divided into sections on grains, pastas, sandwiches, and more, including recipes for side dishes to compliment each entree.

Accompanying each recipe is a checklist for ingredients; a breakdown of the calories, grams of fat, and protein contained in each serving; and instructions for when to begin each phase of preparation. With Vegetarian Express : Easy, Tasty, and Healthy Menus in 28 Minutes(or Less!), even the most harried cook can prepare healthful, tasty meals in record time.
---