Rumprint Cookies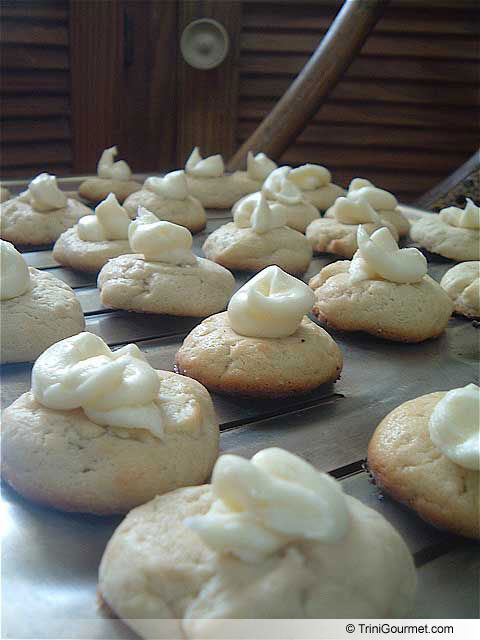 I made these cookies for my mother's birthday several weeks back. They are a first place winning recipe from the 1994 Chicago Tribune Annual Food Guide Holiday Cookie Contest. Made with really trashy rum they really packed a punch. Since there are not many ingredients I really recommend using a high quality butter, and watch the bases carefully, they can brown really quickly!
Rumprint Cookies (1994 1st Place Winner)
——————————————————————————–
Recipe By: Chicago Tribune Annual Food Guide Holiday Cookie Contest
Serving Size: 36
Ingredients:
2/3 cups Unsalted butter, softened
1/3 cup Granulated sugar
1 Egg
1 tablespoon Vanilla extract
1/4 tablespoon Salt
1 3/4 cups All-purpose flour
1/4 tablespoon Nutmeg, or to taste
*** FILLING ***
1/4 cup Unsalted butter, softened
1 cup Sifted confectioners' sugar
1 tablespoon Rum extract or to taste (i used actual rum)
Nutmeg, for garnish (i skipped this)
The unholy alliance of rum and icing sugar. Does anything scream gourmet as loudly as buying the 1-cup plastic bottle of rum? 😀 This stuff was potent! Real bootleg quality (or 'babash' as we call it here). I think the Americans call it hooch? lol!
Directions:
1. Beat butter in large bowl of electric mixer until light; beat in sugar until fluffy. Beat in egg, vanilla and salt; beat well. Stir in flour and nutmeg until well mixed. Refrigerate dough, covered, 1 hour.
2. Heat oven to 350 degrees. Have ungreased baking sheets ready.
3. Shape dough into 1-inch diameter balls. Place 2 inches apart on baking sheets. Press down centers with thumb.
4. Bake until barely golden, about 12 minutes. Cool on wire racks.
5. For filling, beat butter until light. Beat in confectioners' sugar until fluffy. Add rum extract to taste. Beat well. Fill a pastry bag fitted with a medium star tip with the filling. Pipe a star into the center of each cookie. Sprinkle with nutmeg. Chill until filling firms, 15 minutes.
---