Trinidad Kachourie (recipe)
Several weeks ago a reader asked me to post a recipe for Trinidad Kachourie. Well, it's taken me a while but here it goes! 😀
So what is kachourie, some of you may ask? Well kachourie appears to be Trinidad's version of what is listed in Wikipedia as kachouri or kachouri:
From Wikipedia:

Kachori – More specifically spelled as Kachauri, a farsan or spicy Indian mouth watering snack of various regions of India, including Rajasthan,Gujarat and Uttar Pradesh. In Rajasthan it is usually a round flattened ball made of Fine flour filled with a stuffing of backed mixture of yellow moong dal or Urad Dal the crushed and washed horse beans,besan the crushed and washed gram flour, black pepper, red chili powder, salt and other spices. In Gujarat, it is usually a round ball made of flour and dough filled with a stuffing of yellow moong dal, black pepper, red chili powder, and ginger paste. In Uttar Pradesh, it is a flattened ball of spiced potatoes, typically including potatoes and peas, wrapped in white flour, and deep fried. A variant includes sweet upwas (fast) kachori, made with potato, coconut, and sugar. Kachoris are often served with a chutney, often made from tamarind, mint, or coriander.
Here in Trinidad the difference seems to be that the ingredients are integrated into the dough which is then fried. Like the above though the final result is also served with chutneys (mango and tamarind come to mind)
This post is something of a 2 in 1 as I decided to take two approaches to this recipe. One traditional, and one quite non-traditional. The non-traditional approach was to use a bag of pholourhie mix as my base (as the base recipe for kachourie is very similar to the base recipe for pholourhie).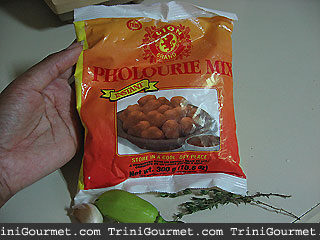 I was curious how this would turn out. I added some extra cloves of garlic and the necessary chive and hot peppers. Once the water was added (I used less than the package called for to form a denser dough) the batter turned the requisite bright yellow and it was time to fry everything up!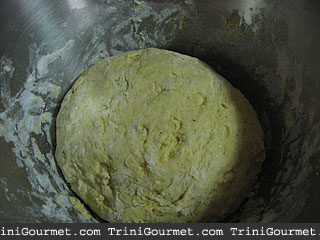 The batter mix puffs up a lot more than I expected, so even though the pieces of dough that I had pressed out were small and thin (oil your hands if the batter gets sticky) they seemed quite large in the end.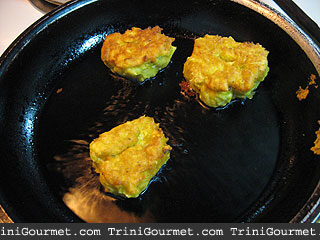 So my final verdict? As with everything there are pros and cons. The pros were the relative ease and quickness with which everything came together. The cons were the pholourhie mix has much more wheat flour than chickpea flour, this reduces the chickpea/splitpea flavour and denseness of the final product. Now for me this is a a bit of con because I like that heaviness and the taste of chickpeas/splitpeas, however if you don't (and I know there are others out there who don't) this would be a distinct advantage of using a prepackaged mix.
However if you are like me, and want to give the traditional approach a try (or if you don't have access to prepackaged pholourhie mix) here is a popular recipe (as seen in the Naparima Girls High School Cookbook). Feel free to play around with the ratios of chickpea flour to all-purpose flour to get the flavour balance that you desire 🙂


Trinidad Kachourie

INGREDIENTS:
1 lb. split peas or chick peas, soaked overnight
3 tsp. minced garlic
1/2 cup finely chopped onion
1/2 cup pimentos, finely chopped
1/4 cup chopped chive
1/3 cup flour
1/2 tsp. saffron powder or tumeric
3 tsp. baking powder
2 tsp. salt or to taste
hot pepper to taste
1/4 cup water (approx.)
1 cup oil for deep-frying

METHOD:
1. Drain chick peas or split peas and grind or mince.
2. Combine ground peas, garlic, onion, pimentos, chive, flour, saffron, baking powder, salt, pepper and water well.
3. Take a tablespoon of mixture and shape in 2 1/2″ – 3″ round; flatten to 1/2″ thickness.
4. Fry on either side until golden brown and well cooked. More than one can be fried at a time. Lower heat if necessary when frying.
N.B. Could use 1/2 amount of split peas and 1/2 chick peas.
Serve with mango or tamarind chutney. I made a nice dipping sauce by diluting mango chutney and blending it with equal parts garlic and pepper sauce 🙂
Alternative spellings: kachowrie, kachouree
---