Vegetable Fried Rice (recipe & video)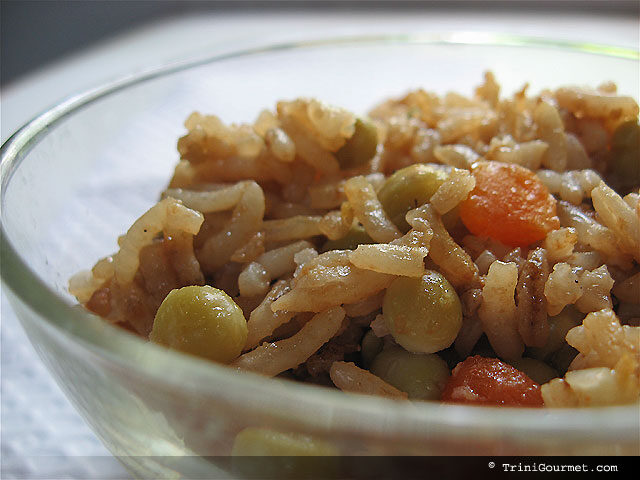 Fried rice. It's something that I've grown up on as my mother usually makes it at least once a week. Sometimes as a side dish, other times as the main occasion. It is really interesting to me how versatile it is and how it never tastes the same from cook to cook. Even when my mother and I approach the same recipes the results are slightly different 🙂 I have posted various Fried Rice recipes on here before, but like many things in life I think one can never have enough. This recipe, from MacGourmet.com is different from those that I'm familiar with, but it tasted good and that's what matters the most to me 😀
Here's a little clip I've put together of mom in the kitchen 'doing her thing' 😀


Vegetable Fried Rice
From: MacGourmet.com
Makes 4 servings
INGREDIENTS:
1 cup frozen mixed peas and carrots
3 tablespoons peanut oil
2 eggs, beaten
1 clove garlic, minced
4 cups cold cooked white rice
2 tablespoons chicken broth
2 tablespoons soy sauce
1 green onion, sliced
DIRECTIONS:
Microwave carrots and peas until tender, about 5 minutes. Drain and set aside.
Heat 2 tablespoons oil in a wok or large frying pan over high heat. Add garlic and stir for about 30 seconds. Add cooked peas and carrots. Remove from heat and transfer mixture to a bowl.
Heat remaining oil in pan over high heat, break rice apart with wet hands and add to pan. Stir fry for 3 to 4 minutes.
Make a well in center of rice and pour in beaten eggs. Stir the eggs until they are scrambled then stir-fry the eggs into the rice until thoroughly blended.
Add soy sauce and chicken broth and stir fry for 3 more minutes. Gently add vegetable mixture, and scallions. Serve hot.
---