A Beer is a… Carib (video)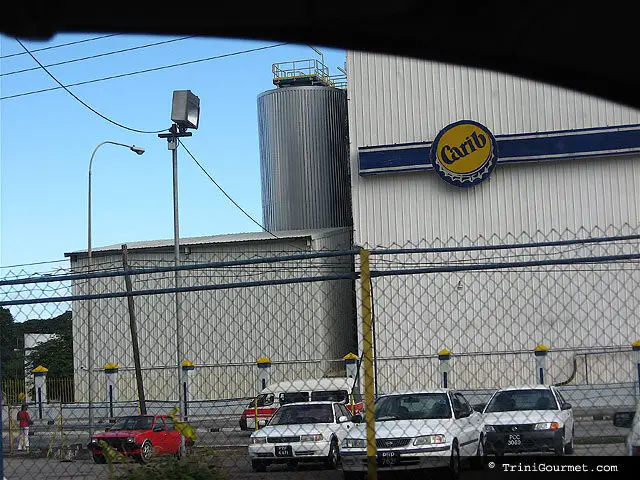 Carib Brewery, Eastern Main Road, Champs Fleurs
Ask any Trinidadian to complete the following phrase. A beer is a … and you'll instantly hear a loud uproarious 'Carib'.
For over 50 years the Carib Brewery has been producing Carib beer to the delight of Trinis both at home and abroad. I know that for myself seeing a Carib sign in a pub or a bar abroad was enough to make me scream, grab a camera and patronise the establishment 😆
Carib doesn't only produce beer however, they also are behind the popular Shandy Carib line, as well as Malta and Smalta.
From CaribBeer.com:

The brewing of beer in Trinidad and Tobago was inherited from the British. The first commercial brewery was founded just after World War 1 although there had been legislation as early as August 1899 concerning the regulation of brewing.

It is known that a Mr. Walters began the brewing of beer on a commercial scale just after World War 1 with a capacity around 3000-5000 hectoliters a year, which is extremely small by today's comparisons. Walters' Trinidad Brewing Company produced Royal Lion Ale, Royal Extra Stout and Black Velvet Stout during the depression years.

After the war, Sir Gerald Wight, then Chairman of Alstons and Company Limited (now McEnearney Alstons Limited), saw the need and opportunity to expand local industry from the traditional sugar and oil-based economy. He pushed for the establishment of a new brewery and a Glassworks factory and in July of 1947, the Caribbean Development Company Limited (CDC) was formed with Sir Gerald Wight as its Chairman. The Brewery started with an initial payroll of seven (7) persons.

In September 1950, the Brewery launched its own beer, Carib Lager beer, before which foreign imported beers were available to the population. However, with the advent of Carib, the imported beers began to disappear from the market, as Carib's popularity increased. In 1957, CDC acquired the brewing plant and interests of Walters' Brewery. By 1957, therefore, CDC was the sole brewer and bottler of beer and stout in Trinidad.

In 1972, the Brewery acquired more land and brewhouse equipment, increasing its capacity to over 250,000hl per year. It expanded its product range into the dark malt drink market launching Malta Carib in 1973. This was the first non-alcoholic drink to be produced by the Brewery, directed to health conscious individuals. Next, followed Shandy Carib in 1985, which was an effort to capitalize on the popular indigenous custom of mixing beer and other flavoured drinks.

As early as 1983 the brewery facilities were expanded to facilitate the increasing demand locally, as well as exports to international destinations. New brands and flavours, (including Stag Lager beer, Smalta and Shandy Lime), were developed and launched over time, moving the company from one pinnacle of success to another.

The Brewery has over time, formed partnerships with International Companies such as Guinness, Interbrew, Carlsberg, Ginseng-Up Corp and Diageo, and as a result several international brands are produced under license for local and export consumption. These include Guinness stout, Mackeson stout, Ginseng-Up, Carlsberg beer and Smirnoff Ice.
Carib Lager Beer Commercial (1989)
This post was originally published on September 4th, 2007. It has been updated twice since then.
---