Sarina's Savoury Peanut Chicken (recipe)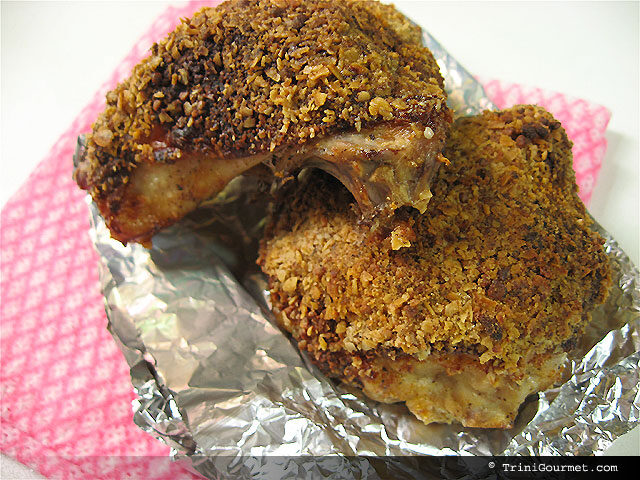 Ever since I learned that peanuts and chicken are a traditional pairing in many African cultures I have been intrigued and curious to try the combination myself. As Emancipation Day drew near I figured what could be a more perfect time to bite the bullet, or should that be "bite the peanut"? 😉
I marinated several chicken thighs in a combination of mint jelly, mustard, and pepper sauce for several hours, after which they were dipped in eggs and coated with a pulverized coating of oatmeal, peanuts and paprika before being placed in an oven to bake.
The final result was a crunchy and surprisingly savoury delight. Contrary to my expectations the peanut flavour was quite muted as was the mint and mustard, in fact none of the flavours particularly stood out. Instead they formed a harmonious backdrop, enhancing the chicken without overpowering it.
Now that I have dipped my toe into the waters of the peanut-chicken combo and found it quite comfortable I can't wait to try many more recipes. If you have one that features this ingredient duo feel free to let me know. Oh the possibilities 🙂
Note: This entry has been submitted to TGRWT #4

Sarina's Savoury Peanut Chicken
Makes 6 to 8 servings
INGREDIENTS:
¼ cup salted nuts, crushed
¾ cup rolled oats
2 teaspoons paprika
1 tablespoon dijon mustard
1 tablespoon pepper sauce
1 tablespoon mint jelly
1 tablespoon soft margarine
6 chicken parts
1 medium egg, slightly beaten
DIRECTIONS:
1. Squeeze lemon juice over chicken parts
2. Sprinkle liberally on all sides with salt and pepper
3. Set aside
4. Combine mint jelly, margarine, pepper sauce and mustard.
5. Microwave for 10 -20 seconds to liquify the mixture
6. Stir to combine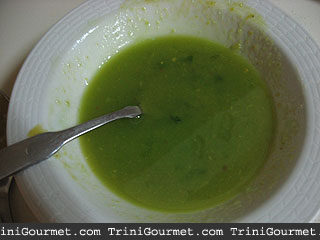 7. Pour over chicken and turn pieces to make sure all sides are covered
8. Set aside for at least 1 hour, preferably overnight
9. Preheat oven to 450F
10. Combine peanuts, oats, paprika in food processor
11. Pulse until finely ground
12. Dip chicken pieces into beaten egg,
13. Place chicken pieces on greased baking sheet with skin side up.
14. Sprinkle peanut mixture evenly on the coated side
15. Bake for 40 to 45 minutes
This recipe is an exclusive TriniGourmet original. Please do not share it or post it to your site without crediting TriniGourmet.com. A link back to our site is not necessary but always appreciated 🙂
---