Double Corn Spoon Bread with Green Chiles (San Francisco Chronicle's Top Recipe of 1992)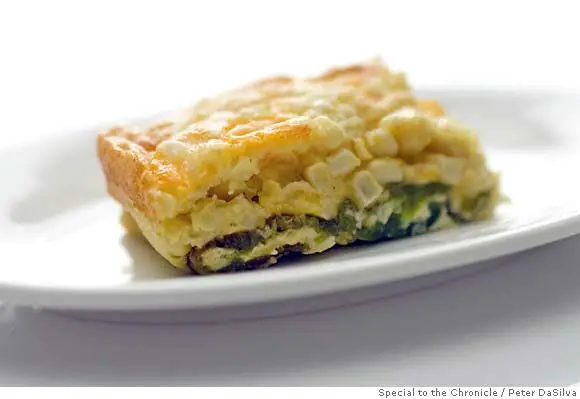 The contrasting tastes and textures of cornmeal and fresh corn kernels enrich the following recipe from Georgeanne Brennan. Tasters at the San Francisco Chronicle really liked the charred fresh chiles and the light, souffle-like texture. Serve this anytime — even for a light supper with a green salad and French bread. Brennan started writing for the Food section in 1982. She is the author of: Potager: Fresh Garden Cooking in the French Style, Glass Pantry, and The Food and Flavors of Haute Provence among others.
INGREDIENTS:
2 tablespoons butter
6 large, fresh green chiles (such as Anaheim), roasted, peeled and seeded
1/2 cup grated Monterey Jack cheese
1/4 cup grated sharp cheddar cheese
3 eggs, yolks and whites separated
Kernels from 2 fresh ears of corn (yellow or white)
2 tablespoons yellow cornmeal
2 tablespoons flour
1/3 cup milk
2 tablespoons sour cream
1/2 teaspoon salt
INSTRUCTIONS:
Preheat oven to 350???. Butter an 8-inch-square baking pan with 1 tablespoon of the butter.
Place the chiles in a layer on the bottom of the pan, and sprinkle all but 2 tablespoons of the cheese on top of them.
Beat the egg whites until fluffy, but not stiff.
In another bowl, mix together the egg yolks, corn kernels, cornmeal, flour, milk, sour cream and salt.
Fold the whites gently into the yolk-flour mixture. Spoon over the cheese and peppers. Cut the remaining butter into small pieces and scatter over the top. Sprinkle the remaining cheese over all.
Bake for 20-25 minutes, or until all but the very center is set. Serve hot.
Serves 8
Per serving: 150 calories, 7 g protein, 10 g carbohydrate, 10 g fat (5 g saturated), 100 mg cholesterol, 252 mg sodium, 1 g fiber.
---