Pesto Latkes (recipe)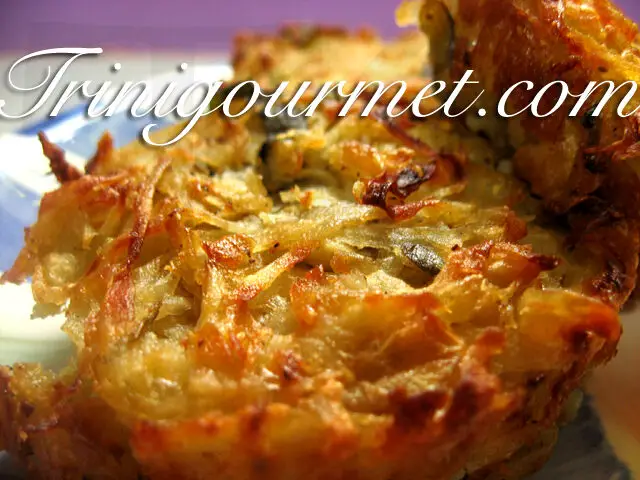 How cute are these 'latkes'? 🙂 I have to put the quotation marks because they are neither fried, nor flat (oh the sacrilege!). But… they are so light, crisp and flavourful that I can't get too worked up so do ignore my faux outrage 🙂
Ignoring weighty fillers, this latke recipe (which like yesterday's Oven-Crisped Latkes comes from EatingWell Magazine
) is instead oven-baked, in muffin tins no less!. The result is perfectly round bites of crunchy potato goodness with just enough creaminess in the middle to give you that oh so satisfying sense of indulgence!
Healthy-and-rich? Now that's a holiday miracle! These vibrantly hued morsels find themselves on my plate year after year, which is why they were a no-brainer for my Hanukkah 2010 recipe roundup.
Pesto Latkes (d)
SOURCE: EatingWell Magazine

SERVINGS: 6
INGREDIENTS:
2 lbs. Yukon Gold potatoes
1 medium onion
4 cloves garlic, minced
3/4 cup packed fresh basil leaves, finely chopped
1/2 cup pasteurized egg substitute, such as Egg Beaters (or 1 or 2 eggs -depending on size)
1/2 cup grated Parmigiano-Reggiano cheese
2 tablespoons extra-virgin olive oil
1 teaspoon salt
1/2 teaspoon freshly ground pepper
METHOD:
1. Preheat oven to 350°F. Coat a 12-cup muffin pan with cooking spray.
2. Peel potatoes, then grate them through the large holes of a box grater into a large bowl. Squeeze in small batches between your hands over the sink to remove excess moisture. Then grate onion into the bowl through the same holes in the box grater.
3. Stir in garlic, basil, egg substitute, cheese, oil, salt and pepper. Place a generous 1/2 cup of the potato mixture into each muffin cup, packing the mixture firmly.
4. Bake the latkes until lightly browned and firm, 45 to 50 minutes. Cool in the pan on a wire rack for 10 minutes before unmolding.
---