The History of the Pineapple Upside-Down Cake (with recipe)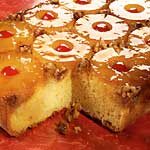 It seems hard to believe that the Pineapple Upside Down cake has not always been with us, however in reality canned pineapples were not available until 1903 when Jim Dole of the Hawaiian Pineapple Company (now Dole Pineapple) perfected a way to tin them.
So where did people get the idea of putting fruit at the bottom of a cake pan?
Well this technique has been around since the Middle Ages. Traditionally made with apples, cherries and other seasonal fruit upside down cakes were often made in cast-iron skillets on top of the stove. The use of pineapple (and an oven) was just the newest most novel twist, an ode to twentieth century technologies and notions of convenience. Indeed it did not take long for the recipe to work its way into the American housewife's repertoire.
By 1925 the Hawaiian Pineapple Company (1925) was receiving 2500 recipes for Pineapple Upside Down Cake when it asked people to submit creative ways to prepare pineapples. Only 2 decades after the introduction of the canned pineapple the Pineapple Upside Down Cake had become a pop icon!
While rooting around in old women's magazines I found a Gold Medal Flour ad with a full-page, four-color picture of Pineapple Upside-Down Cake–a round cake with six slices of pineapple, candied red cherries, and a brown sugar glaze. The date: November 1925." —American Century Cookbook: The Most Popular Recipes of the 20th Century, Jean Anderson
The next year (1926) the Hawaiian Pineapple company capitalized on the popularity of the Pineapple Upside Down Cake by running a national ad campaign featuring the recipe. Further solidifying its place in culinary history 🙂
So are you ready to try your hand at this American classic? Why not check out this recipe for Pineapple Upside-Down Cake from Retro-food.com 🙂 !
---