Trinigourmet's Amazon Hotlist for August 2010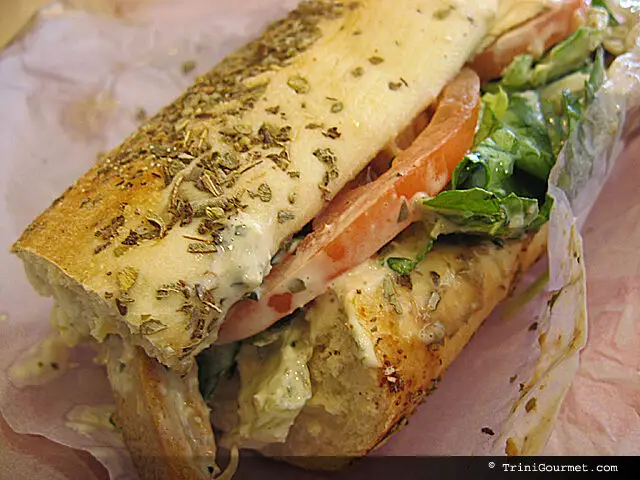 Boomers, a local chain of sub shops has a killer tuna sandwich! They were the first to bring out sauces with distinctly local flavours such as garlic and chadon beni. Subway has since followed… 🙂
It's the start of another month, and with that comes the posting of my monthly roundup of those items that you all have been clicking (and purchasing) this month. Ramin Ganeshram's ode to local cuisine "Sweet Hands" which dipped out of the top spot last month is back on top, due in no small part to its affordable reissue!
Some new entries this month have taken me aback as I can not account for their sudden rise in popularity, most notably the Oscar winning film Chocolat starring Juliet Binoche and Johnny Depp. A longtime favourite of mine, I'm glad to see it making its Hotlist debut! Also popping in for the first time is Bryant Terry's Soul Kitchen. I first wrote about Bryant Terry in February 2009. Better late than never for his most recent publication to gain mass traction here 🙂 BTW, if you're on Twitter you can follow him @bryantterry.
Now on to the countdown!
*note: Hover your mouse over each title for more details!
1. Sweet Hands: Island Cooking from Trinidad and Tobago

Description: Callalloo and Buss Up Shut, Mother-in-Law And Kuchela, Chip Chip and Doubles. The verbiage of Trinidad's cuisine is both lyrical and mysterious. The variety of foods from this Caribbean nation and their fanciful names tell the story of a rich and eclectic cultural heritage.

For this and other Caribbean Cookbooks check out the Caribbean section of my Veni Mangé Amazon Store!

2. The Sephardic Table: The Vibrant Cooking of the Mediterranean Jews

Description: From Morocco and Italy east to Iran and India, Sephardic cooking is a rich blend of herbs and spices, of sweet and savory flavors. Hummus, stuffed grape leaves, and pilafs made with rice or bulgur are a few Sephardic dishes you may recognize.

For this and other Kosher Cookbooks check out the Jewish Cuisine section of my Veni Mangé Amazon Store!

3. The Ayurvedic Cookbook

Description: The Ayurvedic Cookbook gives a fresh new perspective on this ancient art ofself-healing. Over 250 taste-tested recipes are specifically designed to balance each constitution, with an emphasis on simplicity, ease and sound nutrition.

For this and other Vegetarian cookbooks check out the Vegetarian/Vegan section of my Veni Mangé Amazon Store!

4. Baking: From My Home to Yours – Dorie Greenspan
5. Vegan Soul Kitchen: Fresh, Healthy, and Creative African-American Cuisine – Bryant Terry
6. Caribbean Cookbook: A Lifetime of Recipes – Rita Springer
7. Corelle Hearthstone Stoneware Square 16-Piece Dinnerware Set, Service for 4
8. Chocolat (Miramax Collector's Series)
9. Jewish Cooking in America: Expanded Edition (Knopf Cooks American)
10. Julia Child – The French Chef
---