Vidalia Onion Fritters (recipe)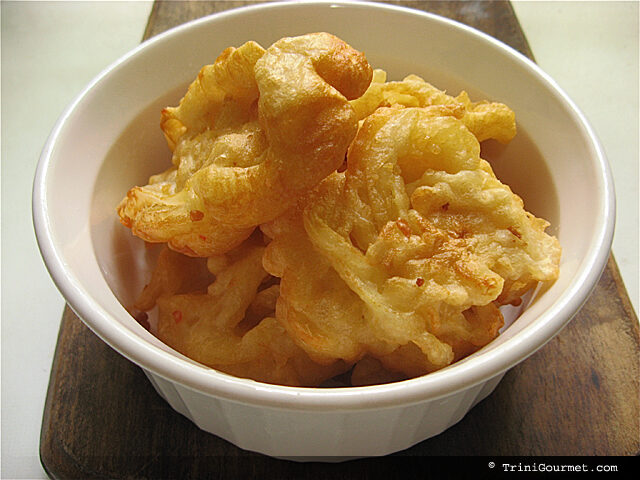 I first made these fritters as part of last year's Sukkot menu. They are much sweeter and lighter than one would expect. And the soaking of the onions in the batter ensures that the onion flavour mellows and evenly distributes. It also makes the onion much softer, so that it almost melts in your mouth. I don't know about you but I just hate when I bite into an onion ring and the onion pulls out between my tooth, as hard as if it just rolled off the supermarket shelf! Yick!
Although they are perfectly brilliant on their own, they are even better with an accompanying sauce. I served them with my very simple Tamarind Dipping Sauce (1 part Tamarind Chutney, 1/2 part water, touch of salt and if necessary pepper sauce).
Vidalia Onion Fritters
Source: Staff Meals from Chanterelle
Ingredients:
1 1/3 cups all-purpose flour, or more if needed
2 teaspoons baking powder
Coarse (kosher) salt, to taste
2 to 2 1/2 cups milk
2 large eggs
1/2 teaspoon white wine vinegar
1/4 teaspoon Tabasco sauce or chili-garlic sauce (sambal oelek)
2 large Vidalia onions, sliced lengthwise (top to bottom)
Canola or other vegetable oil, for deep-frying
Tamarind Dipping Sauce, for serving
Method:
1. Place 1 3/4 cups flour, the baking powder, and salt in a large bowl and whisk to mix
2. Place 2 cups of the milk, the eggs, vinegar, and hot sauce in another bowl and whisk until blended, then pour into the flour mixture and whisk until just blended; do not overmix.
3. Stir in the sliced onions and let the batter rest for 30 minutes. It should be slightly thicker than heavy cream. If it isn't, sprinkle in a little more flour. If it's too thick, add a little more milk. The batter should look somewhat free-form, not doughy.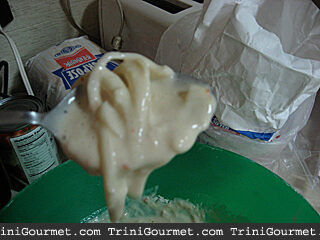 4. Preheat the oven to its lowest setting.
5. Pour vegetable oil to a depth of 4 inches into a large, heavy saucepan and heat to 375°F on a deep-fry thermometer.
6. Drop the onion fritter batter into the hot oil by the tablespoonful, a few at a time, and fry, turning once, until the fritters are golden brown on both sides, about 3 minutes in all. The fritters will have an irregular, spiderlike look, with a few loose pieces of onion escaping here and there. Check a fritter by breaking it open to see if the center Is cooked; it it still seems unset, cook 1 minute more.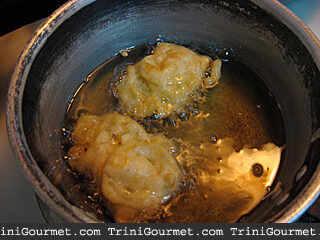 7. Drain on paper towels.
8. Place the fritters in the oven to keep warm while you finish frying them all.
9. Serve on a doily-lined platter or in a lined woven basket accompanied by the dipping sauce in one or more bowls.
---