"You Won't Be Single For Long" Vodka Cream Pasta (recipe)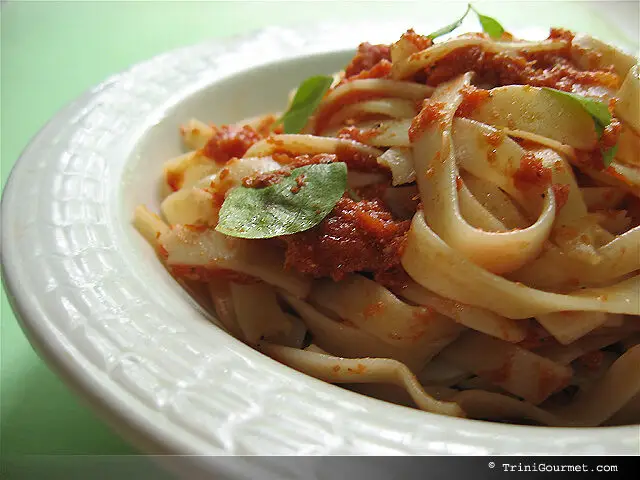 I first learnt about this Rachael Ray dish on Oprah and I won't lie, as a single girl, the name roped me right in 🙂 A dish that practically guarantees a proposal? Where can I sign up?! Sadly I have not had a chance to try it on any prospective suitors but after making it for my family I got many sated mumbles and murmurs. Puzzled, as the recipe itself is pretty simple and basic I realized that the key to its supposed success has to be that sneaky vodka. I am not convinced that it actually cooks off, if you know what I mean 😉 hehehe…
"You Won't Be Single For Long" Vodka Cream Pasta
Recipe by Rachael Ray
Makes 4 servings
INGREDIENTS:
1 tablespoon extra-virgin olive oil, once around the pan in a slow stream
1 tablespoon butter
2 cloves garlic, minced
2 shallots, minced
1 cup vodka
1 cup vegetable stock
1 can crushed tomatoes (32 ounces)
Coarse salt and pepper
16 ounces pasta, such as penne rigate
1/2 cup heavy cream
20 leaves fresh basil, shredded or torn
DIRECTIONS:
1. Heat a large skillet over moderate heat.
2. Add oil, butter, garlic and shallots.
3. Gently sauté shallots for 3 to 5 minutes to develop their sweetness.
4. Add vodka to the pan (3 turns around the pan in a steady stream will equal about 1 cup).
5. Reduce vodka by half, this will take 2 or 3 minutes.
6. Add vegetable stock, tomatoes.
7. Bring sauce to a bubble and reduce heat to simmer.
8. Season with salt and pepper.
9. While sauce simmers, cook pasta in salted boiling water until cooked to al dente (with a bite to it).
10. While pasta cooks, prepare your salad or other side dishes.
11. Stir cream into sauce.
12. When sauce returns to a bubble, remove it from heat.
13. Drain pasta. Toss hot pasta with sauce and basil leaves.
24. Pass pasta with crusty bread.
---