Sarina's Vegetarian "Paramin Surprise" Sandwich" (I'm on to the Semi-Finals!) (recipe)
"And the winner is…"
My breath froze as I waited to hear the next words from Joel Villafana, host of the popular morning program "Cup of Joe".
When he said "Sarina Bland of TriniGourmet.com" I was just about ready to pass out!
That day had really been no joke! Let's recap, shall we? 🙂
I had gotten the call the Friday before for the Tuesday taping of the #KissSandwichShowdown. From the get-go, I knew I wanted to highlight chadon beni. My initial leaning had been a chadon beni pesto but I quickly switched that idea to a more cost-effective gremolata.
From: The Spruce

Gremolata is a condiment made from finely minced parsley, garlic and lemon zest. It's great because it adds brightness and aromatics to dishes like braised meats that might otherwise be a bit heavy or one-note.
From there I went back and forth on what the actual components would be, not actually settling on to what would become the final version until Monday evening with the help of one of my oldest friends Aysha. Who say Trini like last-minute thing? 🙂
What evolved was a vegetarian sandwich, rich in contrasts of flavor and texture.
Come 5 a.m. Tuesday morning and I'm now prepping the ingredients for the taping later. Making last-minute changes and deciding I need to rush to the supermarket as soon as they open to add a few more items. Catch a quick 90 minute nap and I'm back on the road to procure those items and run through the assembly and prep again. At this point I definitely felt like a nervous wreck, I just hoped I wouldn't look like one on-air!
At the actual set I calmed down immensely and started to feel more in my zone. Maybe because it reminded me of shooting my former web-series "Sweet Han'", maybe because my old friend Halcie (who had won the week prior) was also on-set. Either way the nerves started to vanish, mercifully.
It was my first time meeting the foodie I was paired with Jenna G of Hijabi TT, and I hope our paths cross again as I really enjoyed her enthusiasm and have become an avid follower of her instagram feed!
I'm not sure when the semi's will be shot or what format they will take, however I have already started mentally prepping various combinations both sweet and savory. Wish me the best! 😀
Until then, you can try my winning vegetarian "Paramin Surprise" that won over many a self-proclaimed 'meat-mouth' below!
[embedyt] https://www.youtube.com/watch?v=oPksJ-bSxP4[/embedyt]
Sarina's "Paramin Surprise" Sandwich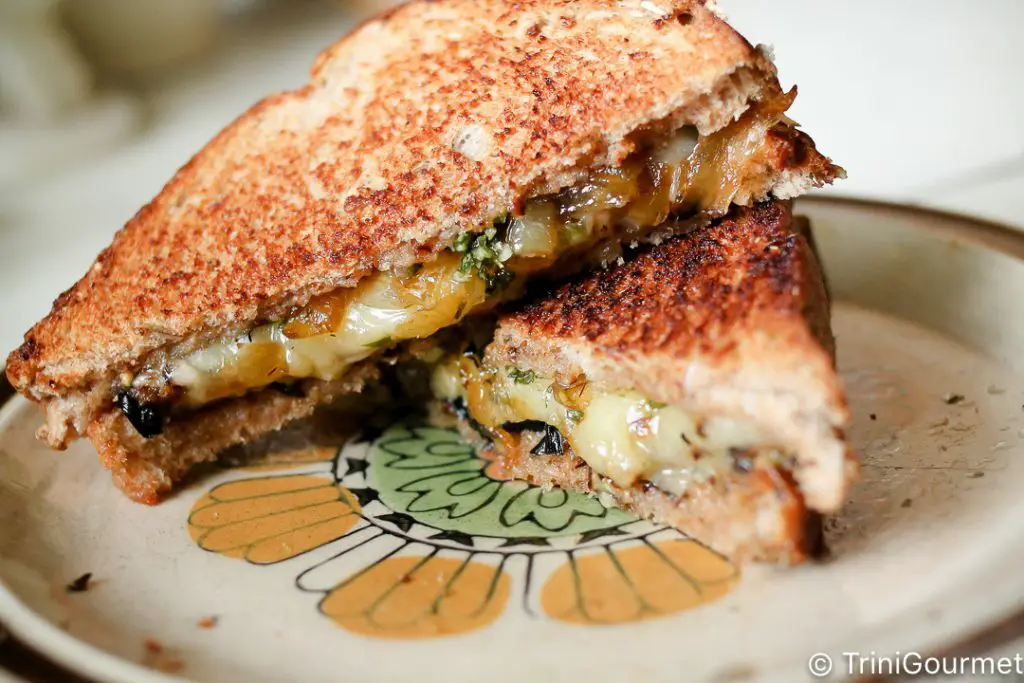 RECIPE: Sarina's Vegetarian "Paramin Surprise" Sandwich
Cuisine:
Mediterranean - Fusion
Prep time:
Cook time:
Total time:
A round-winning vegetarian sandwich that combines Mediterranean flavors with a Trini twist! This recipe multiplies easily within the same prep/cook time so feel free to make several sandwiches at once!
Ingredients
2 slices Kiss MultiGrain Healthy Loaf bread
4 slices of eggplant (roughly ½ inch thick)
4 slices of cheddar cheese (thinly sliced)
2 cups white onions, thinly sliced
½ sweet pepper, seeded and thinly sliced
6 blades of chadon beni
3 cloves garlic, large, peeled
½ teaspoon salt
1 teaspoon lime/lemon zest
2 tablespoons, thyme
1 tablespoon, brown sugar
coconut oil
Instructions
To save time, caramelize the onions while working through the other steps!
*** Caramelize The Onions ***
Saute the onions with 1 tablespoon of coconut oil in a wide saucepan over low-medium heat for 30 minutes, stirring occasionally.
Sprinkle the brown sugar over the onions and stir to incorporate.
Continue to sauté on low for another 30 minutes, stirring occasionally until onions are soft and browned.
*** Grill The Eggplants and Sweet Peppers ***
Salt the eggplant lightly on both sides
Set aside in a wide flat dish or in a colander for 15 minutes.
Rinse and pat dry
Heat a wide saucepan over medium heat.
Add 1 tablespoon of coconut oil
Add the sliced eggplant and sweet pepper slices.
Sprinkle with 1 tablespoon of thyme
Sauté for 3-4 minutes until underside of eggplant appears golden brown, with darker brown spots.
Flip the eggplant and sweet pepper slices.
Sprinkle with the remainder of thyme.
Saute for 2-3 minutes until underside appears golden brown as well.
Remove from pan and allow to cool.
*** Prepare the Gremolata ***
Chop the chadon beni and garlic finely.
Stir in the lemon zest.
Add the salt gradually, to taste.
*** Slice the Cheese ***
*** Assemble! ***
Lay 4 slices of the eggplant onto one of the bread slices.
Criss cross slices of green pepper to form an X lattice pattern
Sprinkle gremolata liberally on top of the sweet peppers.
Top with the cheese.
Add the final slice of bread.
Heat a small saucepan over medium heat with 1 tablespoon of coconut oil
Heat on both sides until bread is browned and cheese has softened.
Slice and enjoy! 🙂
[random_content group_id="87"]
---