Fish in Sweet and Sour Sauce (recipe)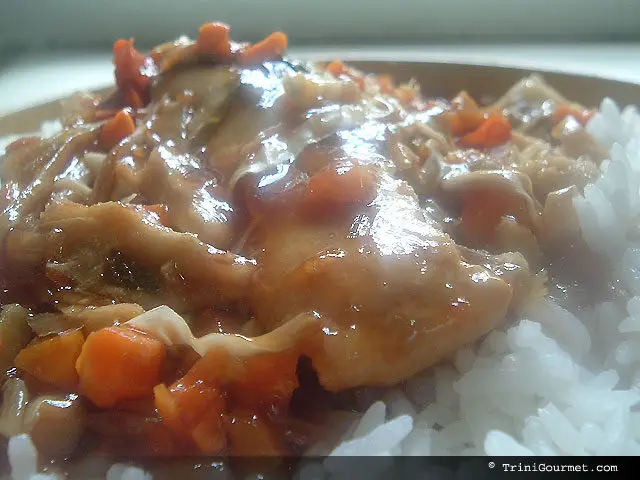 In February I made several dishes based on the start of the Chinese New Year. This was one of them, I'll be posting the other 2 in the near future as well. 🙂
Fish in Sweet and Sour Sauce (adapted from a recipe in the Naparima Girls' High School Cookbook)
INGREDIENTS:
3 1/2 lb fish fillets
chives
thyme
garlic
salt and black pepper
1 tsp lime juice
3 pieces ginger
1/4 cup water
Sauce:
1 cup water
2 tbsp cornstarch
1 tsbp soy sauce
1/2 cup ketchup
2-3 tbsp sugar
1/2 tsp minced ginger
salt and hot pepper to taste
1/2 cup coleslaw
METHOD:
1. Wash and season fish with garlic, chive, salt, black pepper, lime and ginger.
2. Place fish and water in a large frying pan or shallow pot and simmer for 20-25 minutes until cooked
3. While fish cooks: blend in a saucepan, water, cornstarch, soy sauce, ketchup, sugar, ginger, salt and hot pepper
4. Stir over high heat for 5 minutes
5. Add 1/2 cup coarsely grated coleslaw, 1/2 cup vinegar (white or cider)
6. Cook until vegetables are soft.
7. Pour sweet and sour sauce over fish and cook for 5 minutes more
8. Remove fish to a large platter and cover with sauce
Serves 6
---