Hummus (recipe)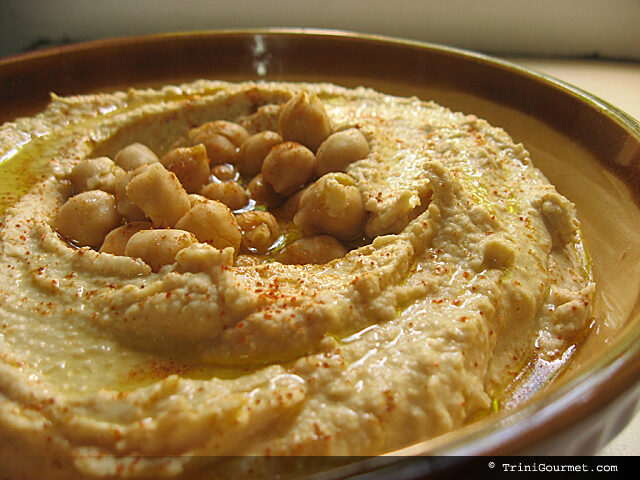 Hummus is a never-fail crowd pleaser and so deceptively easy to prepare! I love to offer hummus as a starter at Purim because chickpeas figure so prominently in the Purim story. This recipe comes from one of my favourite cookbooks The Sephardic Table: The Vibrant Cooking of the Mediterranean Jews
(you can read my review here). Although I have tried many hummus recipes and am not opposed the occasional variation, this is the one I return to time and time again.
Hummus
Source: The Sephardic Table: The Vibrant Cooking of the Mediterranean Jews

Servings: 6
INGREDIENTS:
2 cups cooked chickpeas, drained
3 cloves, garlic crushed
1 cup tahini
juice from 2 lemons, or to taste
1/2 teaspoon salt, or to taste
1/4 cup pine nuts or handful of chickpeas for garnish
olive oil, for garnisih
paprika or cayenne pepper, for garnish.
METHOD:
1. In a food processor fitted with the metal blade, puree the chickpeas and garlic
2. Add the tahini, lemon juice andsalt.
3. Continue to blend until smooth and creamy.
4. Add a little water for a smoother consistency, if desired
5. If you are using the pine nuts for garnish, toast them in a small skilley over medium-high heat, stirring occasionally for about 4 minutes , or until golden. set aside to cool
6. To serve, spoon the hummus onto a serving plate or into a serving bowl.
7. Make a slight hollow in the center of the mound and place the pine nuts or whole whole chickpeas in it. Drizzle a little olive oil on top and sprinkle with paprika or cayenne.
8. Serve chilled or at room temperature
---