Butternut Squash Bisque (recipe)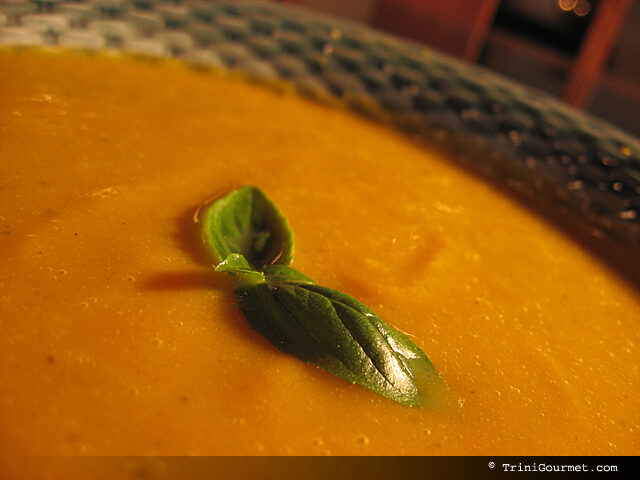 I'm a huge fan of soups, especially thick creamy soups, so this butternut squash bisque was right up my alley.
It's sweet and savoury, all in one, and so so smooth. As with most soups I find that slow cooking the vegetable components until they deeply caramelized ensures the most flavourful result, and don't be afraid to salt the vegetable base in between additions as well. It really helps to heighten the overall profile and bring the flavours together. To add an additional level of panache, garnish each serving with a dollop of creme fraiche, some slivered basil or cilantro (or your favourite herb) and a drizzle of olive oil.
This recipe has been submitted to Souper Sundays, hosted by Deb of Kahakai Kitchen
Butternut Squash Bisque
Servings: 4
Source: O, The Oprah Magazine
INGREDIENTS:
1 medium butternut squash (about 2 pounds)
1 Tbsp. olive oil
1 yellow onion, cut in half and thinly sliced
1 celery stalk, thinly sliced
1 carrot, thinly sliced
1 teaspoon fresh rosemary leaves
2 cups vegetable stock
3/4 cup milk or cream
1 1/2 teaspoons kosher salt
1/4 teaspoon freshly ground pepper
METHOD:
Peel squash and remove seeds. Cut into 1 1/2-inch chunks and set aside.
Add oil to a 4-quart saucepot and place over medium heat. Add onion, celery, carrot, and rosemary, and cook until onion begins to brown, stirring occasionally, about 15 minutes.
Add squash, stock, and 1 cup water. Bring to a boil, then reduce to a simmer and cook until squash is tender, about 15 minutes. Turn off heat and let soup cool slightly, about 8 minutes.
Using a standard or immersion blender, puree soup until smooth. If using a standard blender, puree in small batches to prevent spillage. Transfer to a clean pot or storage container. Soup can be refrigerated for up to 2 days or frozen for up to 2 months.
When ready to serve, reheat. Add milk, salt, and pepper; stir well. Add additional milk or stock if soup is too thick; simmer 5 minutes. Adjust seasoning to taste, and serve warm.
---