Asian Crisp Fried Noodles and Chili Vegetables (recipe)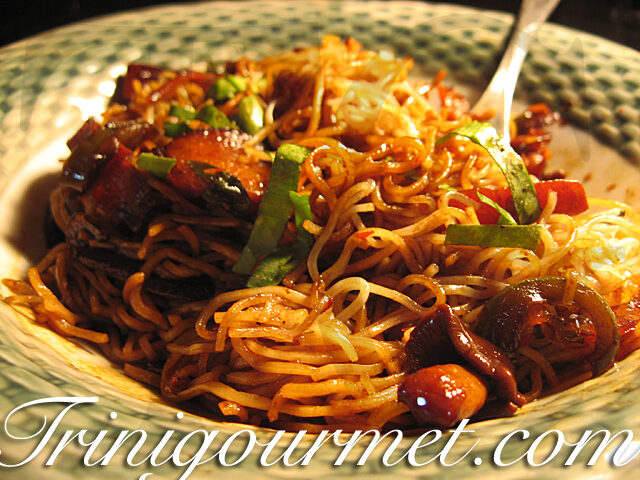 It may seem odd to launch my Hanukkah menu series with an Asian noodle dish, but scratch the surface and you can see that it is not that far a stretch. Hanukkah after all commemorates a miracle of oil, and this is a fried dish. Not only that, but Judaism has had a long and fascinating history in China spanning well over a thousand years!
Did it mention it also tastes great? The most intensive part of this recipe is really the prep work, which can be done well ahead of time. When you are ready to put it together, from start to finish you can be out of the kitchen and savouring the fruits of your labour within 15 minutes. Enjoy it as a vegetarian entree, or as a side to complement your main dish of choice. This is one dish that definitely doesn't require a reason (or season) to be enjoyed!
Asian Crisp Fried Noodles and Chili Vegetables
SERVINGS: 8
Source: Adapted from a recipe of unknown origin
INGREDIENTS:
7 ounces Chinese vermicelli, cooked and drained
2 teaspoons oil
2 tablespoons grated fresh ginger
2 tablespoons chopped coriander
2 cloves garlic
2 onions, cut in thin wedges
2 red chili peppers, finely chopped
2 green peppers, cut into fine strips
2 large carrots, cut into fine strips
28 oz tin (mixed chinese vegetables – any mix with baby corn + straw mushroom), drained
1 cup soy sauce
1/2 cup malt vinegar
2 tablespoons brown sugar
1 cup coriander leaves
2 teaspoons preserved chopped chili
METHOD:
1. Deep fry the chinese vermicelli in hot oil.
2. Drain on absorbent paper.
3. Place on a large serving plate and keep warm.
4. Heat the teaspoon of oil in a large pan.
5. Add the ginger, coriander and garlic and cook for 2 minutes.
6. Add onion, red and green peppers and carrot. Stir fry for 3 minutes.
7. Add the corn, mushrooms soy sauce, vinegar, brown sugar and chilli.
8. Stir to combine and cook over a high heat for 3 minutes.
9. Spoon the vegetables over the noodles, pour over any remaining sauce.
10. Garnish with the coriander leaves and serve.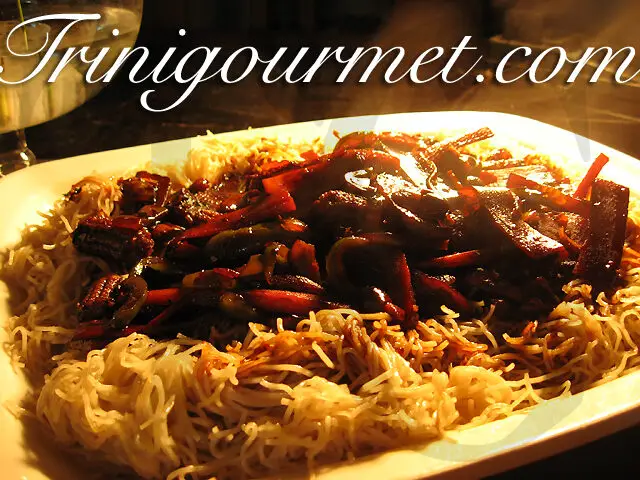 ---